---
It finally happened - the grand journey of a lifetime - and I lived to tell the tale. My 40th birthday gift to myself was a week-long, self-supported cycle tour of 450km in the northeast. The idea was to usher in this birthday with something very immersive and this cycling tour was exactly that. I was hooked!

Three friends accompanied me as I travelled from Guwahati, Assam to Miao, Arunachal Pradesh (refer to the map below), traversing the magnificent Brahmaputra (the only mythical male river) and several of its tributaries. The idea for the journey came from an annual trip that a friend, Vidya Athreya, does on bicycle in December/ January and I immediately wanted to join the madness.

I had been on two cycling tours before - the Tour of Nilgiris for nine days and the Jalori Pass trail in Himachal Pradesh for six days, but both had a support crew travelling with us and we didn't have to carry anything on the bike. This trip would be different. As it drew closer, I was almost feverish with excitement and words and concepts like 'self-supported tour', 'check in and ship the bicycle' started to fill my world. I started to panic. I remember frantically googling the word 'pannier':

pannier

noun

a basket, especially one of a pair carried by a beast of burden.
historical
part of a skirt looped up round the hips.
Of course, my first reaction was to cancel the trip and pretend like this entire thing never happened. Thank goodness I didn't. A self-supported cycle tour is an utterly sublime and a distilled experience, which will remain with you forever, really. Happiness is chemical, after all. The resilience, patience and humility one learns on a trip like this is remarkable and will take your breath away. I've put together an album of my experiences, with distances between each place. Do this trip. You won't regret it.

Guwahati - Mangaldoi (75.07km)
Mangaldoi - Dhekiajuli (74.86km)
Dhekiajuli - Pabhoi (105.07km)
Pabhoi - Majuli (18.46km)
(This was a rest day, so we just cycled the last stretch, from the riverbank to Majuli)

Majuli - Sivasagar (64.9km)
(We rode 8km to the Kamalabari Ghat from Majuli and took a 1.5-hour ferry ride to Nimati Ghat. From Nimati Ghat, we rode 56.9km to Sivasagar)


Sivasagar - Sonari - Margherita (43.4km)
(We rode to Sonari and hitched a ride on a truck to Margherita)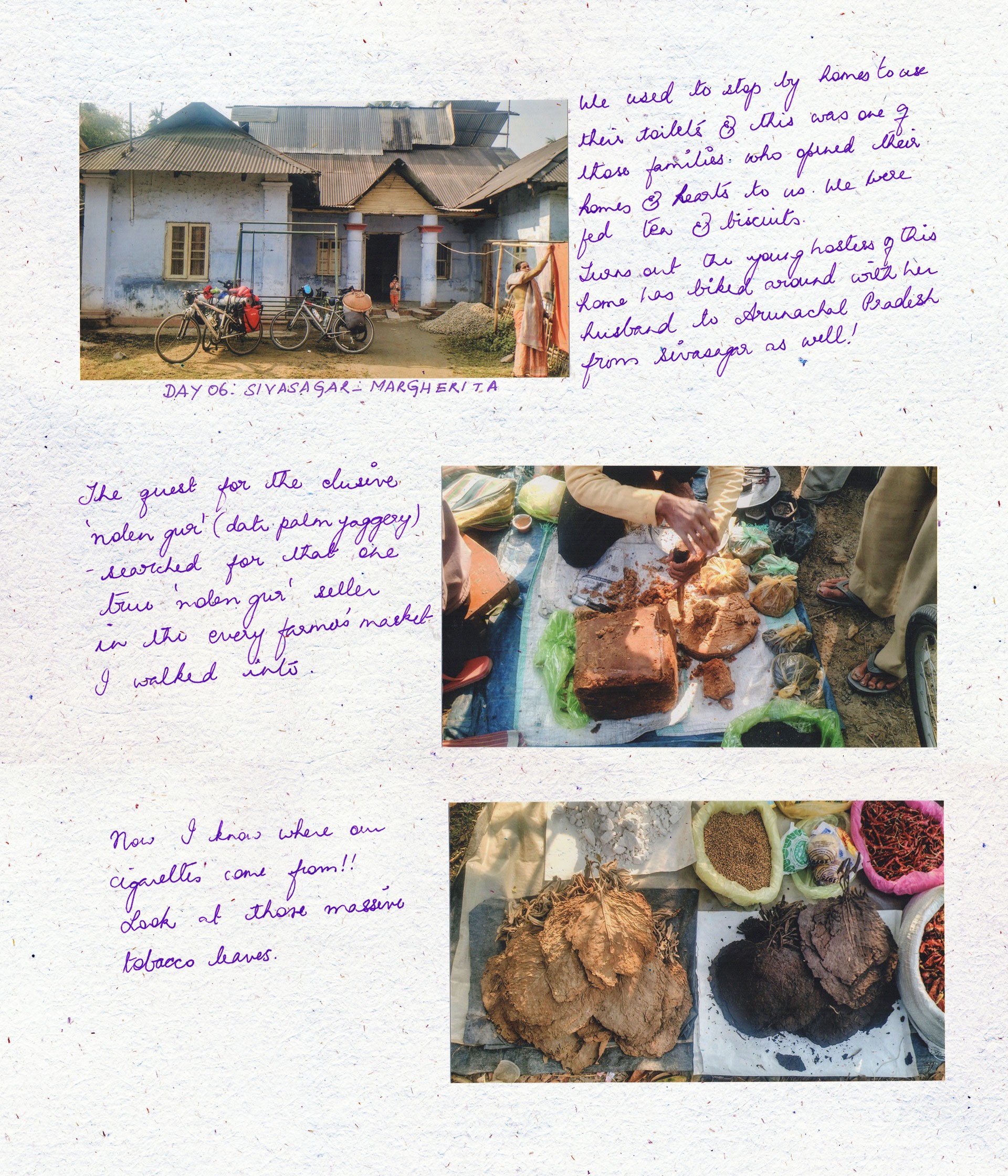 Margherita - Miao (74.54km)