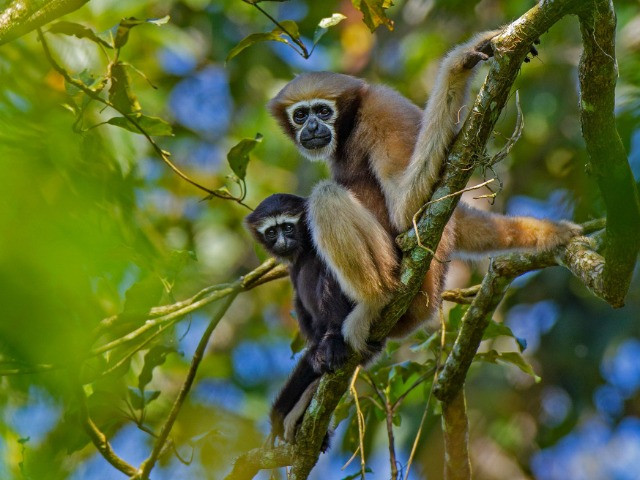 Dehing Patkai
One of the few remaining lowland tropical rainforests in mainland India, Dehing Patkai in Assam's Brahmaputra basin is an important biodiversity hotspot
Dehing Patkai
Northeast India is renowned for its rich biodiversity—unique and rare flora and fauna that are not found anywhere else in the country. There are two Ramsar wetland sites, two UNESCO world heritage sites, five elephant reserves, seven tiger reserves, sixteen national parks and fifty-two wildlife sanctuaries in this part of India. Dehing Patkai National Park is the latest addition to the list.
Situated at the foothills of Patkai Hill Ranges, on the banks of River Dehing, and adjacent to the Namdapha Wildlife Sanctuary, this forest is considered one of the few remaining lowland tropical rainforests in mainland India. The actual forest stretches across 500sq.km., including three contiguous patches in Joypur, Upper-Dehing and Dirok.
Getting There
Air
Dibrugarh Airport (IATA Code: DIB) is the nearest airport, at a distance of approx. 103km from Dehing Patkai National Park (a 2.5-hour drive via NH315 or about 3 hours via NH215 and Duliajan-Digboi Road). There are regular flights to Dibrugarh from Kolkata, New Delhi, Mumbai, Bangalore, Chennai and Hyderabad (Air India, Indigo and Vistara).
Rail
The nearest railhead is in New Tinsukia Junction (NTSK) and Dibrugarh (DBRG), at a distance of approx. 104km away from the National Park.
Road
Dehing Patkai is well-connected with Dibrugarh via NH315 and NH215.
Best Time To Visit
Though the National Park is open all through the year, the best time to visit is during the winter and spring months.
Winter (November to March):
This is when migratory birds arrive in Dehing Patkai. Try to be in the field early to witness the mist make way as the forest slowly comes to life. Bird activity is at its peak from 7am to 11am, and then again from afternoon until sundown. During the winter months, you can enjoy the National Park without the hindrance of rain or water-logging.
Spring (March-April):
Bear witness to rainfall, new growth and the magic of the breeding season! The birds become more vocal, most notably the barbets and the cuckoos. This is also a great time to spot rare species such as the Blue-eared Barbet, Square-tailed Drongo-Cuckoo, Common Hawk, Hodgson's Hawk, and the highly sought-after Violet and Emerald Cuckoos.
History
Dehing Patkai harbours the largest stretch of lowland rainforest in the country. Situated in the Brahmaputra basin, this dipterocarp-dominated lowland rainforest is often considered the 'Amazon of the East'.
Dehing Patkai was declared a Wildlife Sanctuary on June 13, 2004, after a decade-long movement known as the Rainforest Conservation Movement of Assam. Dehing Patkai was then notified as a National Park on June 9, 2021.
Stay
Soraipung, Jeypore and Digboi all have forest guest houses managed by the state forest department. The Jeypore Guest House (better known as Inspection Bungalow) is located 2km from the sanctuary entry gate, at the end of a lane right next to the Dehing river. The old, British-style bungalow has two rooms (tariff of ₹300).
Getting a room in any of the forest guest houses will be difficult. In order to book your accommodation, you will have to email the District Forest Officer in Dibrugarh. All necessary details can be found here.
Alternatively, there are private stay options in Digboi, Duliajan and Tinsukia. But unlike the state-run guesthouses, you will have to start an hour early from these accommodations to reach the forest on time.
See | Do
Northeast India's wildlife sanctuaries are havens for birdwatchers, and Dehing Patkai is no exception. It has a high diversity of birds, with about 330 species recorded thus far. A walk in the forest will gift you the chance to spot birds such as Long-tailed Broadbills, Scarlet Minivets, Sultan Tits, Pin-striped Tit-Babblers, Bronzed, Greater and Lesser Racket-tailed Drongos, Blue-winged Leafbirds, Maroon Orioles, Green Magpies and the occasional woodpeckers and flycatchers.
Other than these, you might get the chance to come across the Greater Necklaced Laughingthrush and Red-headed Trogon in good numbers.
The bamboo patches and salt licks or pongs are where one can find the tiny White-browed Piculet and the Pale-capped, Green and Mountain Imperial-Pigeons.
Some of the primates seen here are Slow Loris, Assamese Macaque, Stump-tailed Macaque, Pig-tailed Macaque, Rhesus Monkey, Capped Langur and Western Hoolock Gibbon.
Other small mammals recorded from the region via camera traps include the Marbled Cat, Asian Golden Cat, Leopard Cat, Binturong and Malayan Porcupine.
Don't Miss
Visit Maguri Beel, a large wetland formed by the merger of two tributaries of the mighty Brahmaputra River—the Lohit and Dibru. It is an important winter migratory ground for several waders and home to various grassland birds and resident waders.
Maguri Beel translates to 'catfish lake' in the local language. However, due to overfishing, catfishes don't survive here today. You can get close-up views of grassland birds, raptors and waders while making your way across the marshy lake on a boat.
What To Pack
During spring, carry loose cotton clothes, a hat/cap, sunglasses and sunscreen lotion.
During winter, carry layered warm clothing, jacket, woollen cap, muffler, and gloves.
Be sure to carry light warm clothes, especially a muffler, even in March as temperatures drop in the early morning and evening.
Always carry a raincoat or poncho as there could be occasional showers.
Carry spare batteries for your camera and power banks to charge your mobile, as there can be long power cuts. In fact, during my three-day stay, there was no electricity in the entire town of Digboi.
Binoculars and a birdwatching field guide are a must if you are an avid birdwatcher.
Mosquito repellent, torch and a safety aid kit are absolute essentials.
Anti-leech socks are a must as the whole area is infested with leeches.
For Photographers
A telephoto lens of at least 400mm focal length is a must as most of the birds in this area are small and well-camouflaged, and they won't allow you to get very close. If you approach them, they will immediately hide or fly away.
Tripod/Monopod is very useful as light is often low under the canopy.
Carry rain cover for your lens as there could be occasional showers.
It is best to hire a guide for birding. Binanda Hatibarua (9954861743/7002189756) is one of the best guides in Dehing Patkai.
Good To Know
ATMs, restaurants, pharmacies and hospitals are present in Digboi town. However, facilities aren't available round the clock. So, it is always good to plan ahead.
Network coverage of Reliance Jio is good in the region.
Carry your identity proof at all times.
Budget Per Person
A three-night stay is highly advisable to enjoy the wildlife and to get a good number of bird and small mammal sightings. Group travel is recommended to lower the cost of logistics.
The cost would be around ₹15,000 per day (twin sharing), which includes stay, food, logistics and guide service. It may increase by an extra ₹2,000-3,000 if you hire an experienced guide.
The camera fee is ₹400 per person.