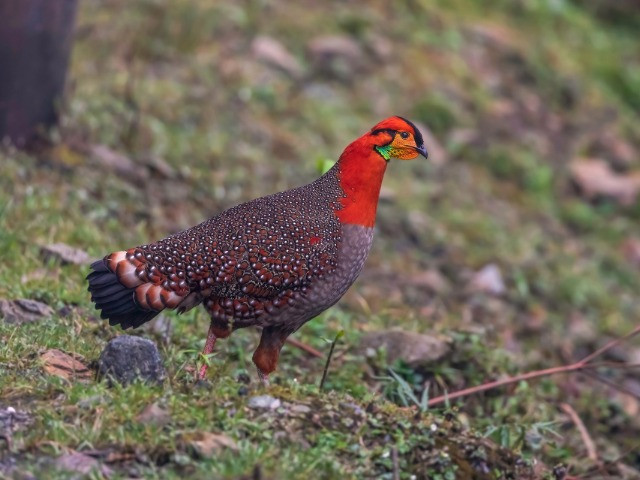 Mishmi Hills
A birdwatching guide to the scenic Mishmi Hills in Dibang Valley, home to several rare and endemic eastern Himalayan birds
Mishmi Hills
Mishmi Hills in central Arunachal Pradesh are a southward extension of the Great Himalayan ranges, with its northern and eastern borders touching China. Unscathed tropical forests, alpine meadows, shrubby woods, bamboo groves and sloping grasslands co-exist in varying hues of blue, yellow and emerald, often interspaced with dense fog, making the Mishmi Hills a magical destination.
Mishmi Hills is the ideal place for birdwatchers. Besides endemic birds, several eastern Himalayan species, which are very difficult to find elsewhere in the region, are easily sighted here. Almost every bird lover wishes to visit this place at least once. Mishmi Hills harbour around 6,000 plant species, 100 species of mammals and 680 species of birds. The serene forest around Mishmi Hills is considered the best biogeographical zone in the entire Himalayan range. The landscape here is extremely attractive for nature lovers, ornithologists and researchers.
Mishmi Hills paints a vivid picture for every visitor. The landscape is dotted with the homes of the Idu-Mishmi tribesmen (belonging to the Tibeto-Burmese region). They can be seen in their colourful attire, grazing the Mithun or Gayal, a large domestic cattle. Trees draped with giant creepers and orchids, decorative ferns that not only carpet the forest floor but also sprout like umbrellas, gurgling streams and chirping birds – these are the sights and sounds that welcome you to Mishmi Hills.
Getting There
Air
Dibrugarh Airport (204km; almost 6.5hrs) is the nearest airport to Mayudia Pass, with direct flight connectivity from Kolkata, New Delhi and Guwahati.
Rail
New Tinsukia Junction (NTSK) (194km; almost 5hrs) is the nearest railway station to Mayudia Pass, with direct rail connectivity from Howrah, New Delhi, Mumbai, Bangalore and Guwahati.
Road
Mayudia Pass area can be approached by crossing the 9.15km long Bhupen Hazarika bridge from Dibrugarh or Tinsukia. The recommended access is Dibrugarh-Tinsukia-Sadiya Ghat. Roing town is situated 65km away from Sadiya Ghat. Mayudia is 56km from Roing, and Hunli is another 44km on Roing-Hunli-Anini road (NH-313). The road is black-topped and motorable, but it is also extremely narrow with countless hairpin bends, so exercise caution while driving.
Best Time To Visit
October to January is the coolest time of the year, with the temperature falling to 0°C. During this period, snowfall in Mayudia Pass poses a hindrance for tourists. The lower regions of the pass are covered in snow only during peak winters.
February to May is the ideal time to visit Mishmi Hills, with temperatures ranging from 8 to 30°C. March and April are the flowering months for rhododendron and orchids here, which is why birders prefer this time to visit the hills. But March also ushers in pre-monsoon showers, which may cause some inconvenience.
June to August is the monsoon season and unpredictable road conditions make it difficult to visit Mishmi Hills or Mayudia during this time.
History
Named after the Idu-Mishmi tribes, Mishmi Hills are one of the most scenic parts of the Mehao Wildlife Sanctuary in Arunachal Pradesh. The sanctuary was established in 1980 over approximately 281.5sq.km. Much of the Mishmi Hills fall in the Dibang Valley.
The hills are divided into three altitudes – the lower altitude (1,300m) stretches from Roing to Tiwari Gaon, the middle (2,655m) stretches from Tiwari Gaon to Coffee House, and from Coffee House to the Mayudia Pass is the most elevated point (2,666m) of the Roing-Hunli-Anini road. In the Deori-Chutia language, Mayodia means "shrine of the mother goddess." This region is distinguished by its snow-capped mountains.
Rich in biodiversity, Mishmi Hills are home to several endemic birds and unique flora and fauna. The Rusty-throated Wren-Babbler or the Mishmi Wren-Babbler (Spelaeornis badeigularis) is an undergrowth-dwelling bird that was long known only from a single specimen collected on January 5, 1947. It was rediscovered on November 18, 2004, by King & Donahue (2006) near the 'KM 44' sign along the Roing-Hunli road. Subsequently, the babbler species has been sighted in various parts of the Mishmi Hills.
However, this pristine forest is not free from human interference. Local hunters are frequently found moving with guns and catapults in search of jungle fowl and deer. Some people also hunt at night using torches, disturbing the forest ecosystem. Lately, the illegal and reckless extraction of the rhizomes of Love Apple (Paris polyphylla), a medicinal plant listed as Vulnerable by the IUCN, has also been recorded owing to its high market demand. This has not only caused drastic depletion of the plant's natural population but also impacted the biodiversity of the area.
Stay
In the upper Mishmi Hills, very few basic stay options are available.
An inspection bungalow is available in Hunli, but it is difficult to book due to high local demand.
Coffee House is a hotel located 4km downhill of Mayudia Pass and is the nearest stay option. Accommodation costs about ₹2,000 per room for double occupancy and has limited facilities. You can reach the Coffee House at 7002196911, 9774748828 or 7002189756.
Roing Town does provide several options for stay across budgets. A night's stay at the Dibang Valley Jungle Camp costs ₹6,000. Rates include accommodation in a twin sharing cottage. For more details, call 09862829416.
The Mishmi Hill Camp, Ezengo is an eco-lodge providing homestay options priced at ₹5,000 per cottage on a twin sharing basis. You can get more details at 098628 56981 or write to [email protected]
Other accommodation options are:
Yatri Niwas, Ezengo (07085687349)
D. S. Hotel, Roing (9206348487)
Hotel Mimu, Lower Market (08787448142/ 03803-222698)
Hotel Zeemuko, Lower Market (07637970362)
See | Do
Spend ample time birding in the upper and lower Mishmi Hills. You can find birds like the Blyth's and Temminck's Tragopan, Ward's Trogon, Mishmi Wren-Babbler, Bar-winged Wren-Babbler, Beautiful Nuthatch, Rusty-fronted Barwing, Ludlow's Fulvetta, Fire-tailed Myzornis, Coral-billed Scimitar-Babbler, and several parrotbill species are frequently sighted here.
If travelling during winter, halt at Mayudia Pass to enjoy the snowfall and the gorgeous snow-capped mountains.
Boating is available at Sally Lake, which is 3km from Roing. Tahe lake is surrounded by thickly wooded forests, offering some scenic views. The small pathway leading to Mehao lake is a nice stretch for trekking.
Visit the Mipi Pene-Igu Museum in Roing to understand the Igu system of the Idu-Mishmi community.
The Mini Zoo in Roing is home to several rescued animals and birds like the White-rumped Vulture, Barking Deer, Hog Deer and civets.
Don't Miss
The traditional rice beer Yu-chi (Joule), in the "achouka" or bamboo mug, is a must-try. The taste is similar to that of toddy.
Meet with and get to know the conservation efforts of Jibi Pulu, a wildlife conservationist facilitating ecotourism and conservation activities in the Dibang Valley. He is actively engaged in creating awareness about conservation and its importance to the local communities. Using camera traps in the Mehao Wildlife Sanctuary, he is trying to understand the biodiversity of the area.
Visit the Iphi Pani Ghat for angling and to enjoy the scenic beauty of the Dibang river and the valley.
The Nehru Van Udyan Park in Roing, located on the banks of the Deopani River, is perfect for a picnic. It has scenic garden spaces, a cactus house and an orchid area.
What To Pack
Irrespective of the season, always carry warm clothing like sweaters and jackets. Additionally, woollen socks, ear muffs, fleece caps and mufflers work well during early mornings and late at night, especially for outdoor activities like birding.
Occasional showers in upper Mishmi Hills drastically reduce the temperatures. Make sure to take the necessary precautions.
Carry a rainproof jacket or a poncho, anti-leech socks and headlamp for all outdoor activities.
For Photographers
A telephoto lens of at least 500mm focal length is essential for bird photography since grassland birds are often small and/or well-camouflaged. Also, some birds are shy, and it is impossible to approach them at close quarters.
Carry a wide-angle lens (10-24mm) to photograph Mishmi Hills' pristine beauty.
Although difficult to use, carry a monopod or a tripod. The light is usually low, posing a big challenge for bird photography.
Carry rain covers for your lens and camera as occasional showers may cause some inconvenience while photographing.
Considering the vast landscape, it is best to go birding under guidance. Ravi Mekola from Roing (9402457180) and Binanda Hatibaruah from Maguri (9954861743/ 7002189756) are two excellent bird guides for Mishmi Hills. Palash Phukan (8472845929/ 9707160530/ 6026005536) and Bijoy Panika (8011975829) are also good guides with whom you can get in touch.
Depending on the tourist season, bird guides charge anywhere between ₹5,000 and ₹7,500.
Good To Know
ATMs, restaurants, pharmacies, convenience stores, petrol bunks and hospitals are present in Roing town. However, being away from big cities like Tinsukia or Dibrugarh, the facilities in Roing may not be available round the clock, so it is better to make plans in advance.
In Mishmi Hills, network coverage is non-existent. All major mobile phone networks provide network coverage in Roing, but data connectivity is not reliable.
At the Coffee House, electricity is provided for limited hours at night using a generator. Be sure to carry sufficient spare batteries and chargers.
Stock fuel sufficiently at Roing as you won't have options to refuel at Mishmi Hills.
Various tour agencies offer Mishmi Hills tour packages based on travel interests. A1 Travel Management, Roing (09436095632/ 08794724401), Ichhe Dana "Wings of Desire", Kolkata (09007820752/ 90078 20752), North East Birding Tours (07002196911/ 9774748828/ 7002189756), Arunachal Birding Tour, New Delhi (09999030-436/ 09911336281) are some options.
Carry two copies of photographs and photocopies of valid identity proofs for Inner Line Permits (ILP). Due to the ongoing pandemic, the Government of Arunachal Pradesh has stopped giving online ILPs. But you can obtain them at the Santipur check post, 23km ahead of Roing, en route to Sadiya Ghat-Roing road.
It is always safe to carry an RT-PCR/ True NAT test report conducted within 72hrs of entry.
Budget Per Person
A three-night stay at upper Mishmi Hills and a one-night stay in lower Mishmi Hills is highly recommended for enjoying its wildlife, natural beauty and culture. Since it is a geographically challenging area, group travel is recommended so that costs and logistics can be shared.
Various tour agencies are charging ₹6,500 to ₹7,500 per day for a birding tour of 3-4 days in Mishmi Hills. Charges apply to a group of minimum 3-4 individuals and include accommodation, meals, transport vehicle and bird guide services.
The entry fee for Mini Zoo is ₹10 for an adult and free for children. At Sally Lake, the entry fee is ₹10 per person. Entry at the Mipi Pene-Igu Museum is free of cost.