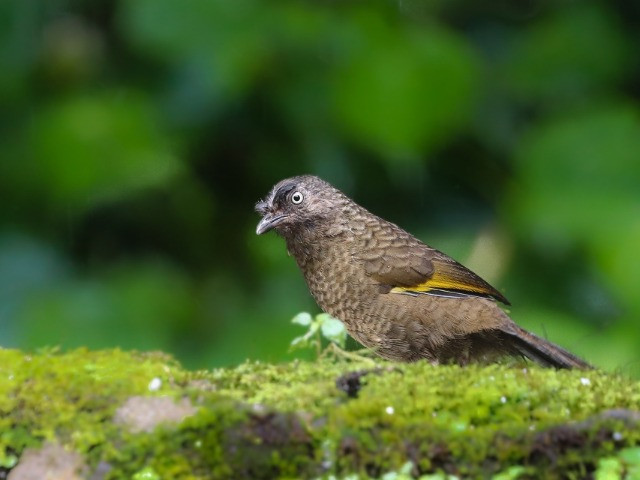 Rongtong
A birdwatching guide to an idyllic village set amidst the lush tea gardens and alpine forests of Darjeeling, home to some of Eastern India's rare and endangered avians
Rongtong
Situated in the district of Darjeeling in West Bengal, Rongtong, which loosely translates to 'colours and beyond', is a hamlet that truly lives up to its name. With tiny village homes on lush rolling hills, blanketed by clouds and shrouded in mist, Rongtong is something straight out of an English classic.
Parts of Rongtong fall within the Mahananda Wildlife Sanctuary, under the Darjeeling Wildlife Division. With over 300 species of birds (and around 40 species of mammals), the sanctuary is an Important Bird and Biodiversity Area (IBA).
The moist montane ecosystem at the lower altitudes gives way to dense mixed-wet forests at the higher elevations, which help a large variety of wildlife to thrive. The area is also dotted with hundreds of verdant tea gardens, interspersed with numerous streams. Rongtong promises immense potential for observing wildlife, attracting researchers and nature lovers all around the year.
Getting There
Air
Bagdogra, near Siliguri (26km; less than an hour's distance) is the nearest airport with good flight connectivity all over India.
Rail
New Jalpaiguri (NJP) (22km; about an hour away) is the nearest broad-gauge railway station and has excellent connectivity. The Darjeeling Himalayan Railways (DHR), which operates narrow-gauge trains between New Jalpaiguri and Darjeeling, passes through Rongtong, and as such, the place also boasts of a quaint little station by the same name.
Road
One can travel to Siliguri (20km) and then hire a car to Rongtong.
Best Time To Visit
There is no particular time to visit Rongtong, with the region's avian diversity thriving round the year.
July to October:
The season brings out the best, with the surrounding tea gardens and the adjoining parts of the Mahananda Wildlife Sanctuary covered in lush greenery. Also, during this time of the year the clouds and the Himalayas provide for some otherworldly landscape photographs.
November to January:
Winters are somewhat cold with the minimum temperatures ranging between 10 to 15°C.
February to May:
The spring season brings yet another beautiful time to visit Rongtong. Temperatures usually range in the early 20s, and the flowering season brings out sunbirds and spiderhunters in droves.
History
The history of Rongtong is essentially that of the Darjeeling Himalayan Railways (DHR). Now a UNESCO World heritage, the DHR was built in the 1880s. It is an engineering marvel that connects Darjeeling (the Queen of the Hills) with the city of Siliguri. With multiple zigzagging loops, the narrow-gauge track gains around 7500 ft elevation throughout its entire course. The real ascent starts around Rongtong station, where it climbs 1500 ft in just 12 kilometres to reach the next station at Tindharia. The unscathed wilderness of Rongtong is the perfect backdrop for the DHR.
The American novelist Mark Twain wrote, "The railway journey up the mountain is forty miles, and it takes eight hours to make it. It is so wild and interesting and exciting and enchanting that it ought to take a week".
Stay
There are a couple of accommodation options available at Rongtong. These are basically homestays operated by birding guides from the region.
Peter Beck is an excellent bird guide who operates the Rongtong Hotel (9064962707) while Yamfu Homestay (9614127217), located eastwards, towards the Sepoy Dhura tea garden is another option. Both these Rongtong homestay options offer basic but clean and hygienic rooms. Charges would typically range between ₹1400 to 1600 per person per day, including food.
One can also choose to stay in Siliguri which has plenty of options for all budgets.
See | Do
The road to Rongtong passes through the scenic Mahananda Wildlife Sanctuary and parts of the Sukna Reserve Forest. The narrow-gauge railway track that runs adjacent to the road and the tall Sal trees are so mesmerising that it is impossible to resist taking photographs. If you are lucky, you may even spot an elephant herd along the way.
Spend a couple of days birding in Rongtong and the vast tea gardens of Sepoy Dhura and Nurbang. While the Black Baza has now become synonymous with Rongtong, the Great Hornbill and Oriental Pied Hornbill can also be easily observed. Monsoon birding allows one to observe many unique cuckoo species like the Violet Cuckoo, Emerald Cuckoo and the Himalayan Cuckoo. Besides these, there are the beautiful resident bird species like the Long-tailed Broadbill, Oriental Dollarbird, plenty of leafbirds and the Greater and Lesser Yellow-naped Woodpeckers.
Paglajhora, located 30km up north, is yet another birding destination. Look out for the Silver-eared Mesia and Blue-capped Rock-Thrush here.
Set aside one day for birding inside the Senchal Wildlife Sanctuary (50km from Rongtong), popularly known as the Tiger Hill. One can photograph the Hill Partridge here. Also, the place has at-least a dozen other laughingthrush species. Look out for the Fire-tailed Sunbird, Blue-winged Minla and the Black-throated Parrotbill.
Latpanchar, located 50km from Rongtong, is yet another birding hotspot. The Rufous-necked Hornbill is an iconic species from the area. Although the bird is spotted around the year, the breeding season of March and April provides the best opportunities to observe and document its behaviour. Besides, plenty of other birds belonging to the sunbird, thrush and nuthatch species can be found in Latpanchar. Kharka Homestay (Bidhan Chetri—9475661341) and Hornbill Nest (Padam Gurung—9475959974) are a couple of lodging options at Latpanchar.
The Teesta river barrage at Gajoldoba (50km from Rongtong) is another paradise for birdwatchers as thousands of migratory birds throng here every winter. Northern Shovelers, Gadwalls, Red-crested Pochards and Ruddy Shelducks are the most common birds visiting these marshlands. Look out for the Common Merganser, Pied Avocet and raptors like the Pied Harrier and Short-toed Snake-Eagle in the upper course of the river. Thakur Halder (7679900387) and Rabi Malo (9749368995) are excellent bird guides for Gajoldoba. There are plenty of accommodation options available at Gajoldoba which cost around ₹ 2,000 to 3,500 per night.
Don't Miss
If you have time, consider staying for a couple of nights in the nearby town of Darjeeling. The place has plenty of stay options and is dotted with restaurants like Keventer's and Glenary's that retain the colonial charm. Don't miss out on tasting and buying the world-famous Darjeeling tea from the Nathmulls Tea Store, conveniently located near the Mall Road. On your way up from Rongtong to Senchal/Darjeeling, do stop at Gidda Pahar. The place offers stunning views of the valley and the meandering Teesta river.

Margaret's Deck Tea Lounge near Kurseong is another option for breakfast. The restaurant almost hangs off a cliff and offers surreal views.

If you are staying in Darjeeling, don't miss watching the sunrise from Tiger Hill. On a clear day, the entire Kanchenjunga range is visible and the play of colours as the day passes, is enthralling, to say the least.

Visit the war memorial at Batasia Loop and take a joy ride in the toy-train.

Visit the nearby Ghoom Monastery, which houses a 15-feet-high statue of the Buddha. The railway station at Ghum, located at an altitude of over 7000 ft, is the highest railway station in India.

Spend some time in the Padmaja Naidu Himalayan Zoological Park. The zoo is internationally recognised for its conservation and breeding programme of Red Panda, Snow Leopard, Tibetan Wolf and other highly endangered animal species of the eastern Himalayas.

Located at an hour's distance from Rongtong, the Shivakhola Adventure Camp is worth a visit. A small stream flowing through the valley adds to the charm of this picturesque location. You can take a relaxing dip in the cool water of the stream if inclined.
What To Pack
Apart from camera gear, one should always carry a diary to document one's experiences and observations. This not only helps to remember the experience but also cherish the nuances from the trip, long after. Besides this, carrying a field guide for birds is vital.
Typically, one would have a heavy breakfast around 6.00 am and then leave for the day's birding. It would be wise to carry plenty of drinking water and snacks, as the frequent small hikes for birding will be tiresome.
Irrespective of the season, carry a raincoat as showers are fairly frequent. For monsoon birding, you would additionally need large umbrellas and anti-leech socks.
Pack comfortable clothes with earthly or mud-coloured shades. Carry warm clothing like jackets for birding in Senchal, which is at an altitude of around 8000 ft.
Carrying a basic medical kit, mosquito repellant and a torch for emergency situations is recommended.
For Photographers
A telephoto lens of 400mm focal length is ideal for bird photography at Rongtong. This would not only help to photograph shy birds but also give flexibility to capture birds in flight—like the hornbills and bazas.
Carry a good pair of binoculars for observing birds as you often have to look for them along the vast valleys and tea-gardens.
Carrying a monopod or a tripod might be useful as you would often be shooting in unfavourable light conditions.
Carry a wide-angle lens (10-18mm) to capture the pristine landscape of the Himalayan foothills. The drive up to Senchal Wildlife Sanctuary near Darjeeling provides ample opportunities to take landscape shots with the Kanchenjunga as the backdrop.
Carry rain covers for your camera and lens as showers are very common in the region.
Considering the vast area that needs to be covered, it is prudent to opt for the service of a birding guide. Peter Beck from Rongtong (9064962707) is an avian expert and charges between ₹1500 to 2000 per day.
Good To Know
Various tour agencies organise birding trips to Rongtong, Latpanchar and Senchal Wildlife Sanctuary. However, it is best to get in touch with a local bird guide and organise the trip with their help. It will reduce your costs drastically. Additionally, you can also have access to first-hand information of latest sighting reports.
It is possible to cover Senchal Wildlife Sanctuary and return to Rongtong on the same day. However, it is not recommended as it would drastically reduce your birding time at Senchal. Similarly, it is possible to cover Latpanchar in a day and return to Rongtong, although it is recommended to stay a night.
You will need a vehicle to cover the birding spots around Rongtong and this would cost between ₹2000 to 3500 per day, depending on which areas you are covering. Your birding guide would be the best person to arrange the vehicle.
ATMs, restaurants, pharmacies and medical stores are available in the nearby cities of Siliguri and Darjeeling. However, while you are out birding, you won't be able to find restaurants except for the odd tea stall or small food joint.
All major mobile phone networks provide good network coverage and data connectivity.
Although electricity is available at Rongtong, it is recommended to carry extra batteries.
It is always recommended to carry an RT-PCR test report conducted within 72 hours of entry.
Budget Per Person
A two-night stay at Rongtong and a one-night stay at Darjeeling/ Ghum is recommended. That would give you ample time to observe the wildlife and the natural beauty of the region and experience the unique culture of the hills. If time permits, it is recommended to spend a day at Latpanchar.
In case you are planning to explore Gajoldoba as well, you would need another couple of days.
A 3-4 day birding tour at Rongtong coupled with Senchal Wildlife sanctuary would cost around ₹10,000 per person. These are costs for a group of 3-4 individuals and include accommodation, food, transportation and bird guide charges.
Birding costs at Gajoldoba amount to ₹1,500 to 2,000 for a day, and include boat hire and bird guide charges.