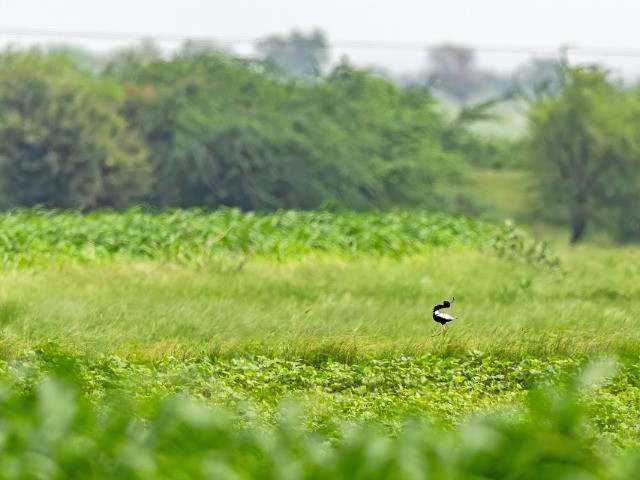 Shokaliya
This tiny hamlet in Rajasthan is one of the last strongholds of the Lesser Florican and your front-row seat to witness the unique courtship display of these exceptional trampoline artists
Shokaliya
Merely 40km from Ajmer in Rajasthan, the village of Shokaliya (pronounced as so-kh-liya) has captured the attention of the birding community in recent years. It is home to one of the most sought-after avian species in Eastern Asia—the Lesser Florican (Sypheotides Indicus) or Likh or Kharmor (which translates to 'grass peacock' in Hindi), the smallest of India's three resident bustards. Once found in abundant numbers, the endemic bustard has today vanished from much of its historical ranges due to hunting and the rapid obliteration of grasslands. Identified as Critically Endangered on the IUCN Red List, it is believed that there are hardly 730 mature Lesser Floricans in the country today.
Shokaliya also harbours a variety of grassland birds like Savanna Nightjar, Rain Quail, Jungle Bush-Quail, Grey Francolin, Indian Eagle-Owl, Indian Roller, European Roller (passage migrant), Paddyfield Pipit, Pied Cuckoo, Eurasian Collared Dove, Indian Silverbill, Indian Peafowl, Laughing Dove, Chestnut-bellied Sandgrouse, shrikes, bushlarks and more.
Getting There
Air
Jaipur Airport (IATA Code: JAI) is the nearest airport, at a distance of approx. 152km from Shokaliya (a 2.5-hour drive via NH48). There are regular flights to Jaipur from Kolkata, New Delhi, Mumbai, Bangalore, Chennai, and Hyderabad (Air India, Indigo and Vistara).
Rail
The nearest railhead is in Ajmer (AII), at approx. 40km (a 1-hour drive via Ajmer Road and Ajmer – Kota Road).
Road
Shokaliya is well-connected with Ajmer via Ajmer Road and Ajmer – Kota Road, and Jaipur via NH48.
Best Time To Visit
Mid-July – August:
These are the primary breeding months for the Lesser Florican, when you can see the quirky mating dance they are famous for. Their migration from non-breeding to breeding areas is largely influenced by the southwest monsoon. Good monsoon rainfall is usually followed by a high influx of these bustards to their breeding grounds.
Best Place To See Lesser Floricans
Lesser Floricans are typical grassland birds, a little bigger than a village hen, rarely encountered outside their breeding season. During breeding, male Lesser Floricans establish their territories and dazzle and charm potential mates with acrobatic aerial displays and their fine plumage. Shokaliya is an agricultural hub known for its moong and bajra cultivation. Moong crop requires 90 days from planting to harvest and almost no supervision during this period, creating an ideal environment for breeding floricans. Moong typically grows to a height of about 1-1.5 feet, perfect for the slightly taller florican to keep an eye out for both potential mates and threats. The crop also needs very minimal or no pesticides.
Stay
A two-day stay is sufficient for a visit to Shokaliya. Most birdwatchers stay at Hotel Sheesh Mahal on the NH48 bypass in Nasirabad, approx. 17km away from the Shokaliya village. The hotel is quite basic but comfortable, and the staff are very helpful. Room tariff is around ₹1500 (A/C Room).
Clarks Resort, Bandanwada would be the second option. Slightly more expensive, a double bedroom at Clarks will cost approx. ₹3500. The distance to Shokaliya from the hotel is 35km via Ajmer-Kota Road/NH 48, and 25km via MDR57.
See | Do
During their courtship display, male floricans leap four to six feet in the air as if shot up by a spring, almost like a trapeze artist, showing off the magnificent design of their wings and accompanied by a peculiar croaking or knocking call. At the apogee of the leap, the neck is arched backwards and the legs folded, as if in a sitting posture, before swiftly falling back to earth with slightly open wings.
The male florican repeats the performance several times over many days until he successfully courts a female. The breeding system is a dispersed lek, with each male holding a territory of about 1-2 hectares.
Male Lesser Floricans need a perfectly moist soil base to pounce, so right after or during a drizzle is the best time to witness this astonishing courtship ritual.
Always remain calm and composed when a sighting takes place. To capture the display of the Lesser Florican, patience is key. If male floricans sense any disturbance such as the presence of cattle or humans, they will refrain from displaying.
Your guide/driver and locals know the area inside the village/grassland better than anyone, respect their knowledge and co-operate with them.
Don't Miss
The famous Jhalana Leopard Safari Park near Jaipur is just 3 hours away from Shokaliya. You could add it to your itinerary.

The renowned Ajmer Sharif Dargah is only 41km away from Shokaliya. Built by the Mughal emperor Humayun, Ajmer Sharif Dargah is the tomb of the famous Sufi saint Khawaja Moinuddin Chishti, and is one of the most important religious sites in Sufism.
What To Pack
Carry light clothes, as the weather will be hot and humid during the monsoon season, and you may have to wait inside the grassland for hours to catch a glimpse of the florican. Carry clothes that will help you camouflage with the surroundings.

Carry fragrance-free sunscreen.

Always keep your phone on silent or airplane mode, when entering the grassland.

Carry a scarf to cover your face and protect it from dust.

Pack extra batteries, memory cards for your camera.
For Photographers
A telephoto lens of at least 400mm focal length is a must as Lesser Floricans are very shy and won't allow you to get very close. If you approach them, they will immediately hide within the moong or bajra fields.

A tripod/monopod will be very useful as you may have to wait long hours to get to see the unique courtship display of the Lesser Florican.

Carry rain cover for your lens as there could be occasional showers.

It is best to hire a guide for birding. From my experience, Rajender Singh (9214600140) is the best guide in Shokaliya.
Good To Know
ATMs, restaurants, pharmacies, and hospitals are available in Nasirabad town. However, ATM facilities may not be available round the clock; it is always good to plan ahead.

Network coverage for Jio and Airtel is good in the region.

Always keep your identity proof documents handy.
Budget Per Person
A two-night stay is highly advisable to enjoy the diverse birdlife in the region. Group travel is recommended to lower the cost of logistics.

The approx. cost would come to around ₹10,000 per day per person (twin-sharing accommodation), which includes stay, food, logistics and guide services. It may increase by an extra ₹2000-3000 if you hire an experienced guide and choose a costlier hotel.