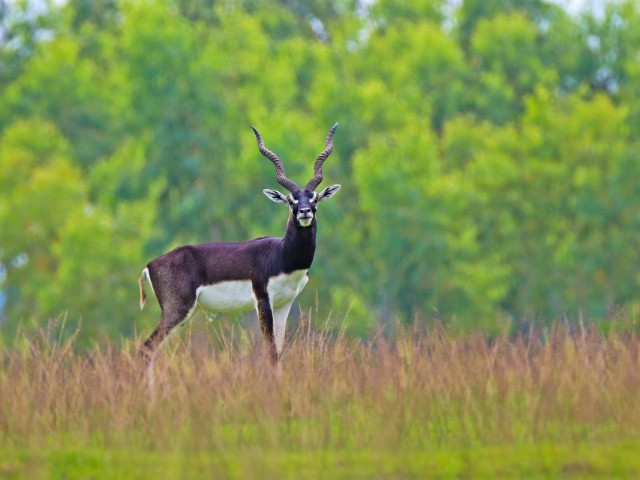 Vetnai
Home to the largest Blackbuck habitat in eastern India, this little village in Odisha is a must-visit along with Mangalajodi and Chilika
Vetnai
Vetnai is a quaint little hamlet located in the Ganjam District of Odisha. Situated amidst the stunning blue-green hillocks of the Eastern Ghats, its valleys are home to more than 4000 Blackbucks, making it the largest singular natural habitat for Blackbucks in eastern India. The antelope species, native to India and Nepal, is mainly found in northern and western India and is not so common in the eastern parts of the country.
The local communities in Vetnai regard Blackbucks as bearers of prosperity and good fortune, and they protect them and co-exist with them in harmony.
Getting There
Air
Bhubaneswar (160km; almost 4hrs) is the nearest airport with good flight connectivity all over India.
Rail
Brahmapur (45km) and Khallikote (42km) are the nearest railway stations. Brahmapur is a major station in the Bhubaneswar–Visakhapatnam section and has excellent connectivity.
Road
One can travel from Bhubaneswar or Brahmapur to Asika (6km) and then hire an autorickshaw to explore Vetnai.
Best Time To Visit
The landscape of Vetnai changes every season. The resident Blackbucks, though ever-present, observing and documenting their behaviour is not compromised in any season. Travelling in winters would help plan a trip to Vetnai with stopovers at Mangalajodi and Chilika (to observe the beautiful migratory birds). However, monsoons are recommended, with the entire area dressed in beautiful green hues alongside the rains.
November to February:
Winters are somewhat cold, with the minimum temperatures ranging between 10-12°C.
March to June:
The temperature rises to the mid-40s in the dry summer season. With the added humidity, it can be a bit uncomfortable to travel during this period.
July to October:
Vetnai receives good rainfall during the monsoon season. The entire area is washed anew in freshly painted hues. The hillocks and the valley become covered in a green carpet, and there is no haze or shimmer in the atmosphere, making it a beautiful time for photography.
History
The story of Vetnai dates back more than a hundred years. Legend has it that the areas adjoining the present district of Ganjam in Odisha faced a massive drought. Agriculture was the key source of livelihood in the region, and it was badly hit. The villagers slowly started to migrate to other places. On one such day, they spotted a herd of Blackbucks in the vicinity. The villagers were astonished as they had never seen such an animal in the area before. To their surprise, heavy rains lashed down the following day.
It was a kind of rebirth for the entire region, instilling a belief among villagers that Blackbucks are the descendants of God and that they must be protected. Regarding the Blackbucks as harbingers of prosperity, the villagers started to worship and love them. While the truth of this legend can be a matter of debate, the role of mythos in protecting the Blackbucks is beyond doubt.
Stay
The nearby town of Asika has a few low-budget to mid-range hotels. These provide basic facilities but are clean and hygienic accommodations.
Maitri Club in Vetnai is a non-profit organisation working for the protection of Blackbucks. Recently, they renovated their office into a beautiful guesthouse, with tariffs starting from ₹1000 for a double bedroom. Staying here will also lend an opportunity to experience the local way of life and savour traditional Odiya delicacies.
Contact Kailash Chandra Maharana (9439961877 / 9861419038) of Maitri Club, and he will gladly show you around Vetnai. You can also spend some time understanding how his NGO has been playing a pivotal role in protecting Blackbucks.
See | Do
Surrounded by the hillocks of the Eastern Ghats and packed with hundreds of grazing Blackbucks, Vetnai has a certain unassuming beauty. But while you are vying for the antelopes, watch out for the Bengal Fox stealthily moving around. There is also significant birdlife in the region, with Indian Rollers (state bird of Odisha) and kingfishers dominating the skies. One can even occasionally find a Grey Hornbill. For a panoramic view of the vistas, drop by the solitary watchtower.
Pakidi, located 12km from Vetnai, is wonderful to observe peafowls. Travelling in the monsoon months will provide the opportunity to watch the beautiful breeding plumage and the graceful dances of these birds.
Come winter, thousands of migratory birds throng the marshlands of Mangalajodi (declared as a Ramsar site for conservation in 1981) and the backwaters of Chilika. Northern Pintails, Black-tailed Godwits, Northern Shovelers, Gadwalls and Ruddy Shelducks are the most common birds visiting Mangalajodi, while Chilika is famous for the flamingos. Both places are located within a range of 100km from Vetnai and can be easily covered.
The estuary of the Rushikulya river is only around 50km from Vetnai. In one of nature's greatest spectacles, the beach witnesses the mass nesting of thousands of Olive Ridley Turtles in the months of March-April, every year.
Don't Miss
Located 40km from Brahmapur, Rambha offers a picturesque view of Chilika Lake and its numerous islands. It is an entry point to the lake from where you can go for dolphin and bird watching to Breakfast Island, Beacon Island, etc. OTDC (Odisha Tourism Development Corporation) has a lovely property in Rambha where you can spend a day or two.
If you have a keen interest in mythology, visiting the nearby Maa Tara Tarini temple on the banks of the Rushikulya river in Brahmapur will be worthwhile. It is one of the four major Shakti Peethas besides Puri, Kamakhya in Guwahati and Dakshineswar in Kolkata.
Just 16km from Brahmapur, the town of Gopalpur has a quiet, relaxed beach dotted with casuarinas and dunes. Windsurfing, scuba diving, rowing, and other adventure sports are on offer here. There are several budget cum luxury accommodations to spend a couple of nights in Gopalpur.
Tasting traditional Odiya cuisines and sweets (Chennapoda) is recommended.
What To Pack
Apart from camera gear, the most important thing to carry to any national park or forest is a diary to document your experiences and observations. Carrying a field guide for birds is always a good idea.
Carry plenty of drinking water and snacks, as roaming after Blackbucks can be tiresome.
In case you are travelling in winter, carry warm clothing like sweaters and jackets. During monsoon season, be sure to bring raincoats and rain covers for your camera gear. Always pack comfortable clothes with earthly or mud-coloured shades.
Carry medical kits and essential commodities. A mosquito-repellant could come in handy.
Ensure you are carrying a torch for emergencies.
For Photographers
A telephoto lens of 300mm focal length is ideal for capturing Blackbucks. If you are also visiting Mangalajodi, you might want to carry a telephoto lens of 500mm focal length to capture the avifauna.
Carry a wide-angle lens (10-18mm) to capture the landscape of the valley and the surrounding Eastern Ghats.
Carry a good pair of binoculars for observing the wildlife. It will be handier if you are also visiting Mangalajodi.
If you plan to spend time in Bhubaneswar, it will be prudent to carry a kit lens (18-55mm) to photograph the splendid temples and wondrous caves of Udaygiri/ Khandagiri.
Good To Know
There are no 'so-called' safaris in Vetnai. You can roam freely on foot and observe the Blackbucks. Since this place is a bit isolated, it would be better to park your vehicle near the watchtower and then move across the open fields.
ATMs, restaurants, pharmacies and medical stores are available in the nearby town of Asika. However, in Vetnai, you won't find any restaurants except for the odd tea stall or food joint. It is also advisable to carry your essentials and medicines.
All major mobile phone networks provide good network coverage and data connectivity.
Budget Per Person
A one-night stay at Vetnai would give you ample opportunities to observe the Blackbucks and experience the local culture. Staying in Maitri Club's guesthouse will cost ₹1000-1500 for a double bedroom. Another ₹1000 will cover meals and transportation to the Blackbuck site. The cost of entry/ permits is negligible.
If you plan to spend time in Mangalajodi, the Godwit Eco Cottage is a fantastic place to stay. The tariff for a double bedroom with meals is around ₹3000 per night. A boat ride for four to observe the migratory birds costs ₹1500 for 2 hours. A hired vehicle from Vetnai to Mangalajodi will charge ₹2500. There are plenty of public transport options (like the buses plying between Asika and Bhubaneswar), which will cost much less.