---
The NiF Photography Awards 2019 were announced at the sixth edition of the Nature inFocus Festival on 3 August in Bangalore.

Shuvam Nath took home the grand prize of NiF Photographer of the Year, who also won the Animal Behaviour category for his image 'Buzz-kill'.

Scroll down to see all the category winners, runners-up and special mentions.

'Nothing To See Here' – Sounak Dutta
Winner – Animal Portraits

It is not just the big cat that takes the shape of fear in the mangrove forests of the Sunderbans. Pictured here is an Estuarine Crocodile waiting in ambush for its next unwitting prey. The mud is maybe unimpressive make-up, but camouflage remains one of the most impressive weapons in the predator's arsenal.

Location: Sunderbans, West Bengal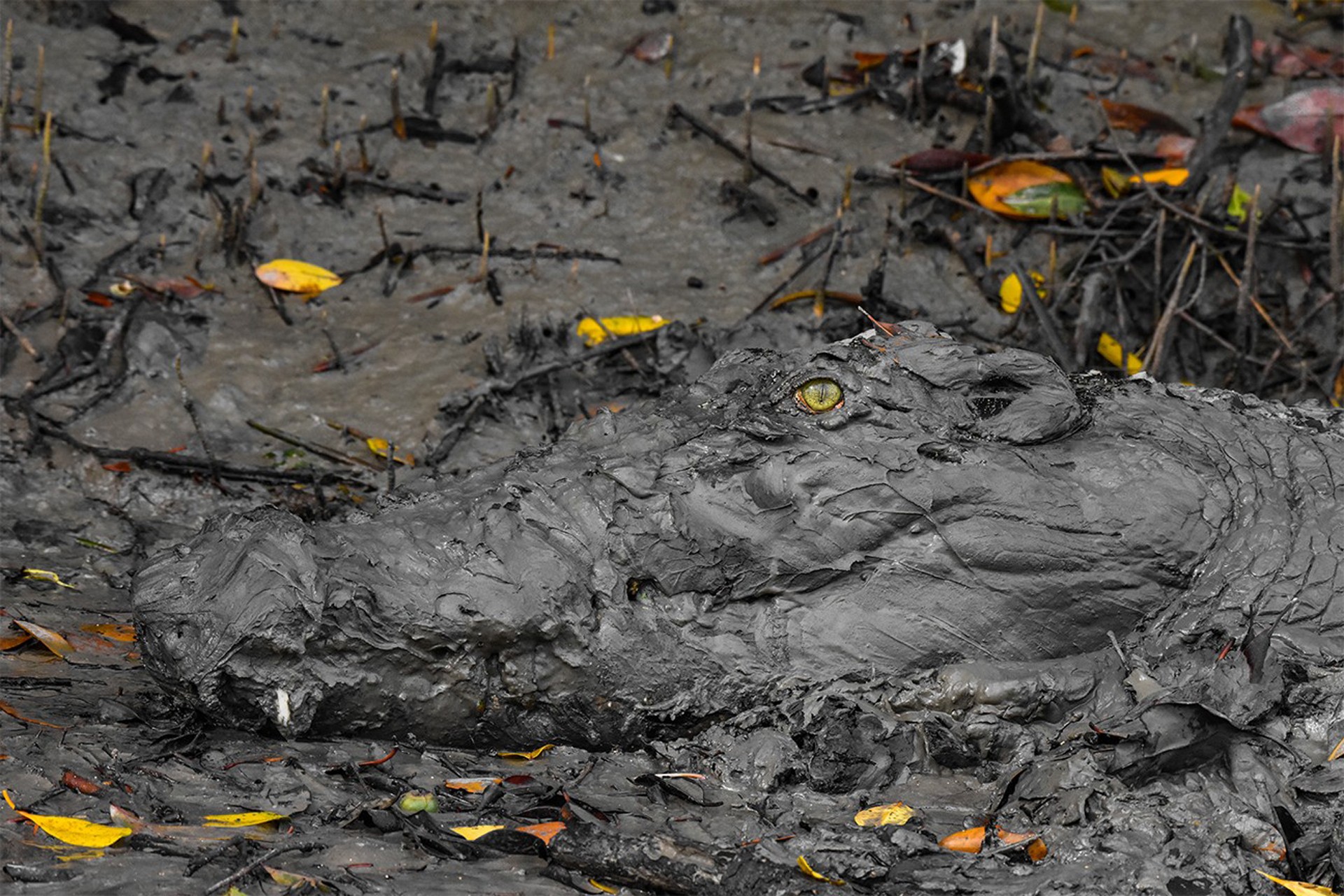 'Thunder Stripes' – Yashpal Rathore & Dr Sanjay Shukla (IFS)
Runner-up – Animal Portraits

A male tiger patrols his territory in the fabled forests of Kanha as the monsoon clouds gather in the backdrop to light up the sky in various shades of lavender. The camera-trap image was photographed with the help of Dr Sanjay Shukla (IFS), who was the Field Director of the Kanha Tiger Reserve at the time. A mud dam wall which holds water throughout the year proved to be the prime trap site to capture the big cat in its element at night.

Location: Kanha Tiger Reserve, Madhya Pradesh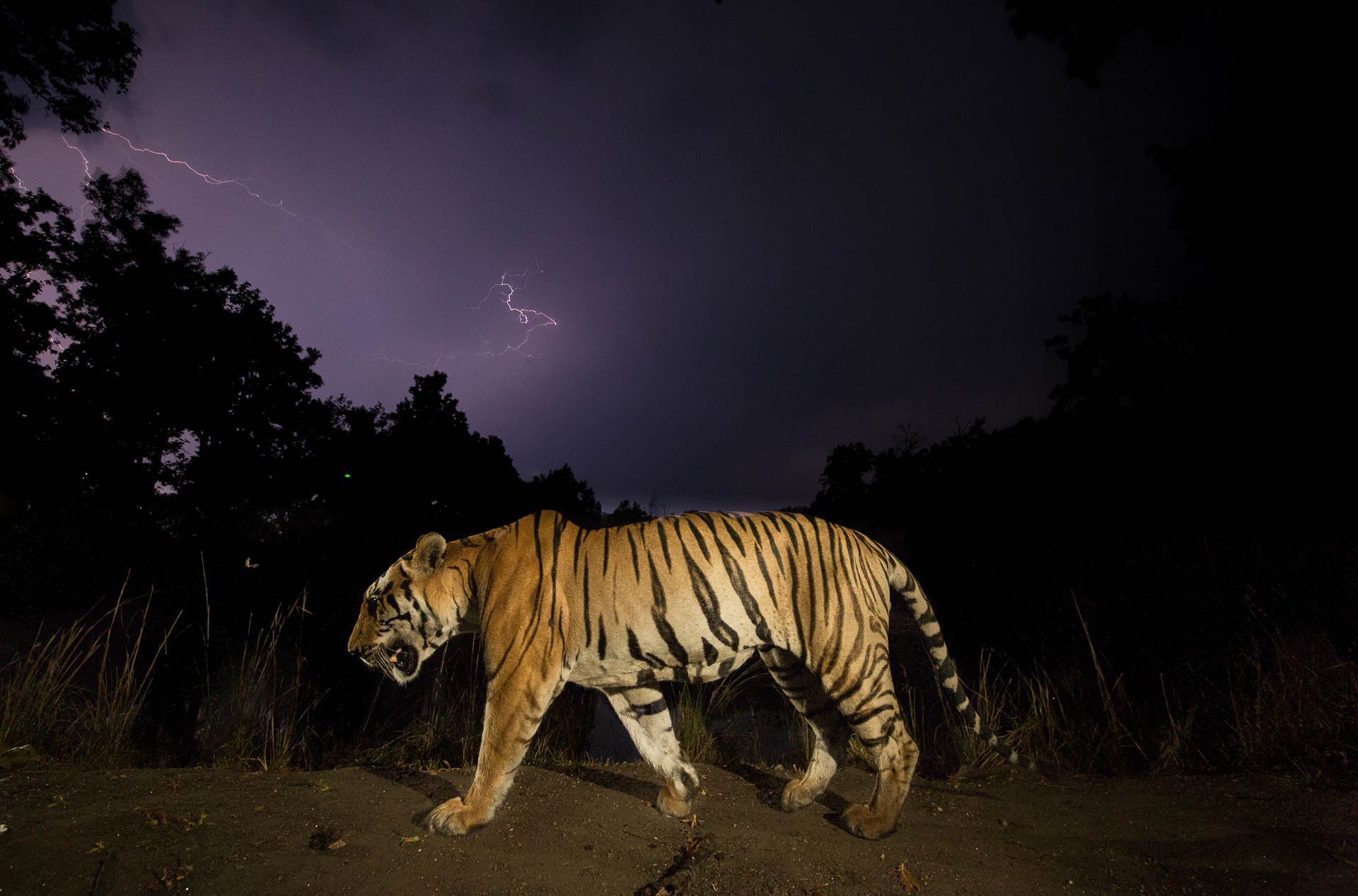 'Bear-dazzle' – Baiju Patil
Second Runner-up – Animal Portraits

A Sloth Bear dazzles the onlooking crowd at the Ranthambore National Park with an elaborate display of its iridescent tail feathers. Nah, nope, that's not it. There is a male Indian Peafowl hidden behind the Sloth Bear with his long train up in full-display.

Location: Sawai Madhopur, Rajasthan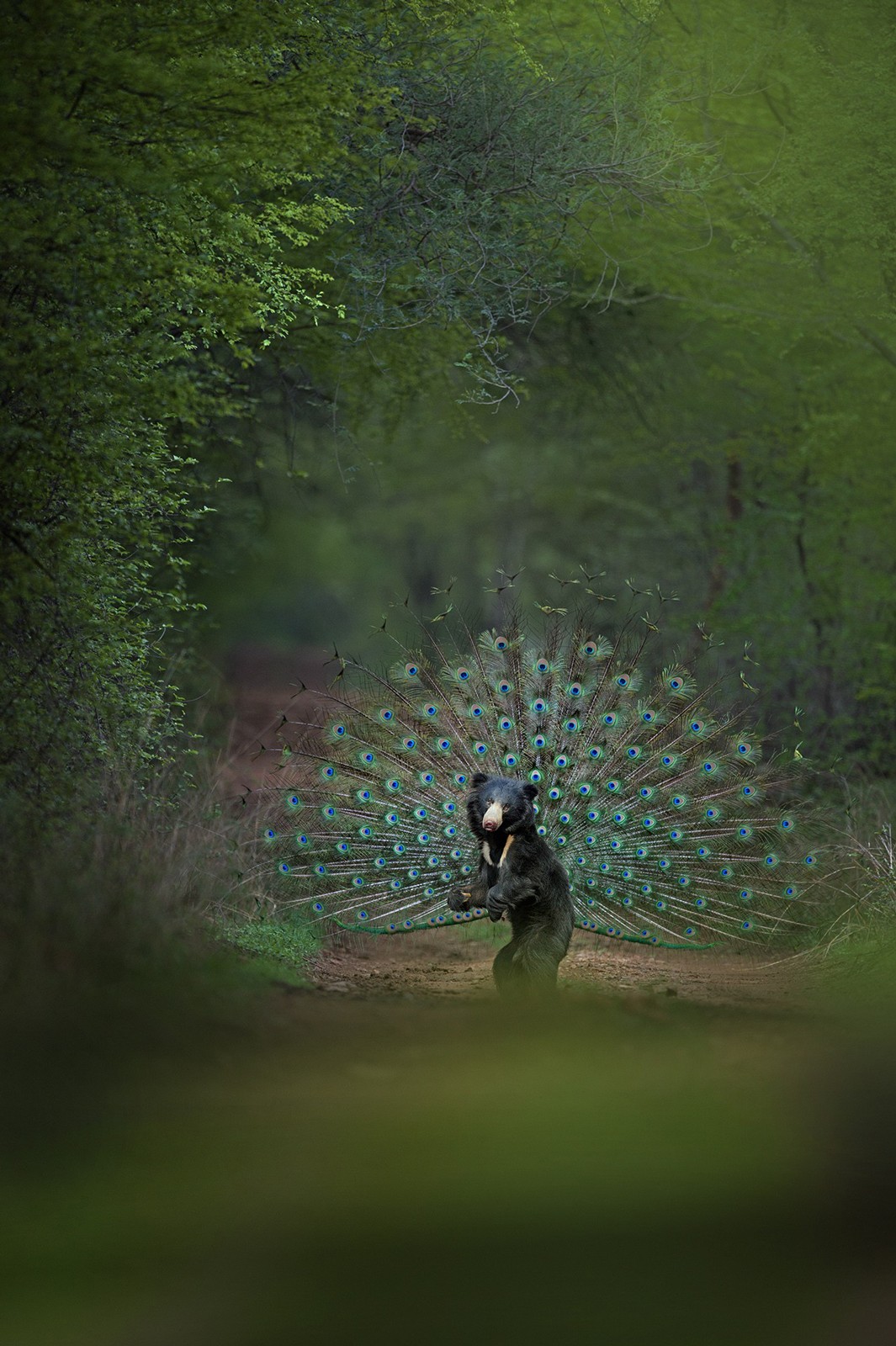 'In The Mood For Love' – Baiju Patil
Special Mention – Animal Portraits

A pair of Himalayan Monals pictured on the branch of a tree, against a backdrop of the snow-laden Himalayas. Usually ground-dwelling, these birds take to the trees in December and January when the snowfall gets heavy.

Location: Chopta, Uttarakhand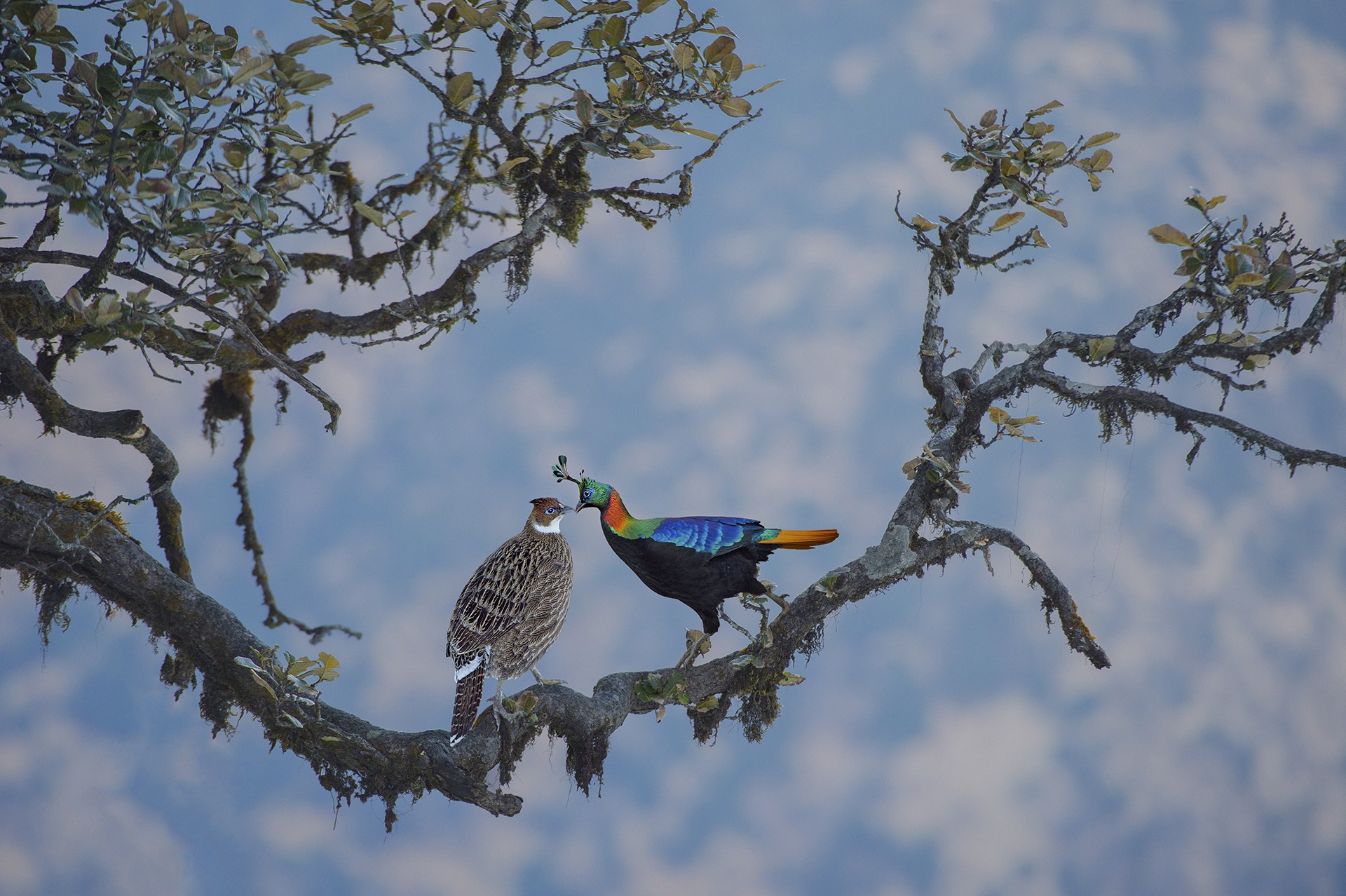 'Beam Me Up, Scotty!' – Kallol Mukherjee
Special Mention – Animal Portraits

The Green Lynx Spider is a familiar species that is found on all sorts of shrub-like plants in the subcontinent. The photographer found this lynx spider near a massive web of a Giant Wood Spider and made a double-exposure image, utilising the spider web and the soft backlighting of the evening sun for dramatic effect.

Location: Singur, West Bengal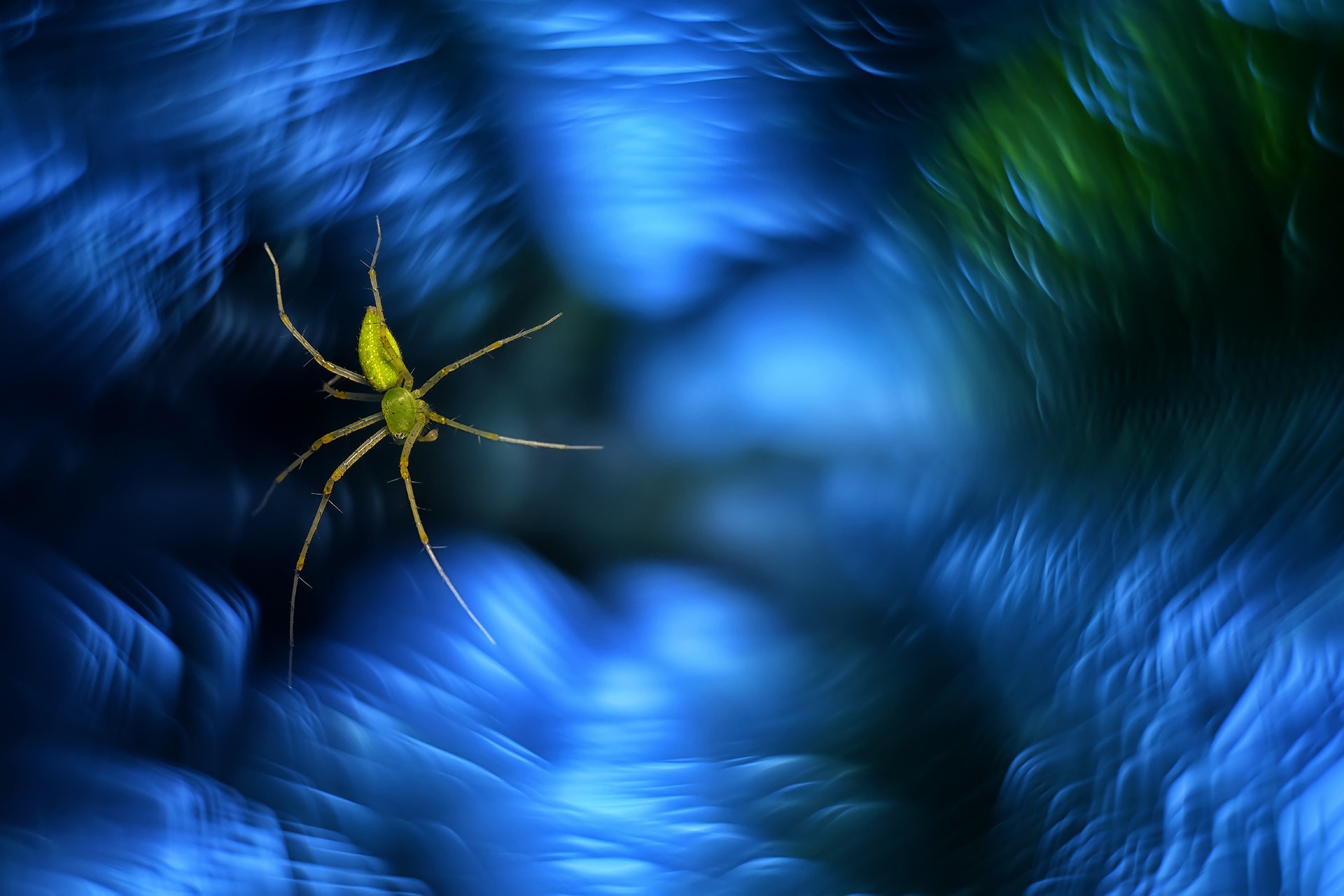 'Buzz-kill' – Shuvam Nath
Winner – Animal Behaviour

A female Oriental Honey Buzzard storms a large beehive as its inhabitants go berserk. Alerted by his parents, early in the morning, the photographer jumped out of bed to capture this action shot from the terrace of his own home. One need not climb mountains or trek forests to find interesting subjects to shoot. If you look around, the possibilities are truly endless.

Location: Bongaigaon, Assam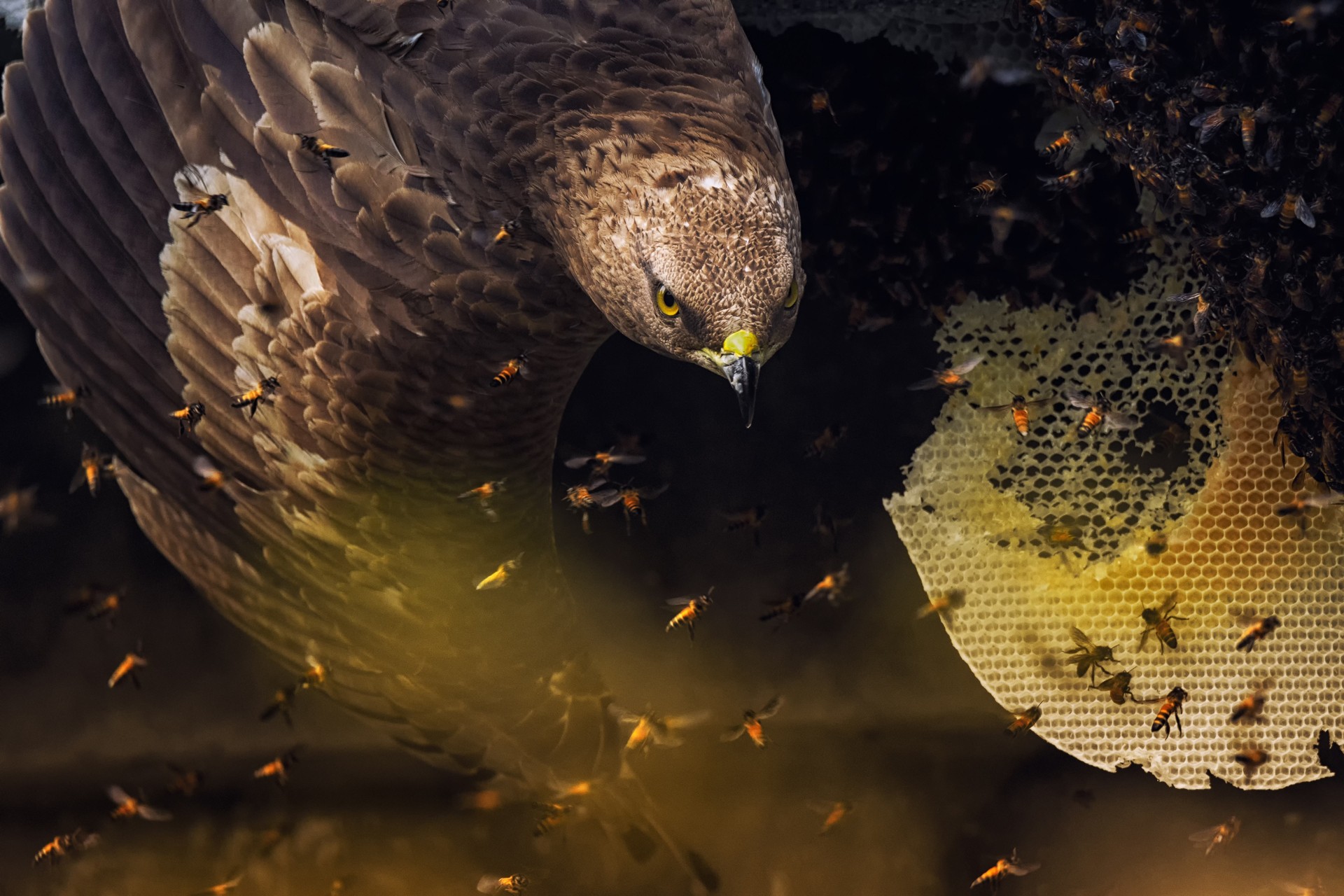 'Kaleidoscope' – Kallol Mukherjee
Runner-up – Animal Behaviour

Butterflies regularly congregate on wet sand, mud and even on rotting plant and animal matter, to sip moisture from them and take in the necessary salts and minerals. Commonly referred to as puddling, in this image, you can see a Lesser Zebra, a Fivebar Swordtail and two Common Jays pictured on the Jayanti riverbed. The photographer's perfectly-timed capture shows how butterflies eject excess fluids from their body before taking flight.

Location: Buxa Tiger Reserve, West Bengal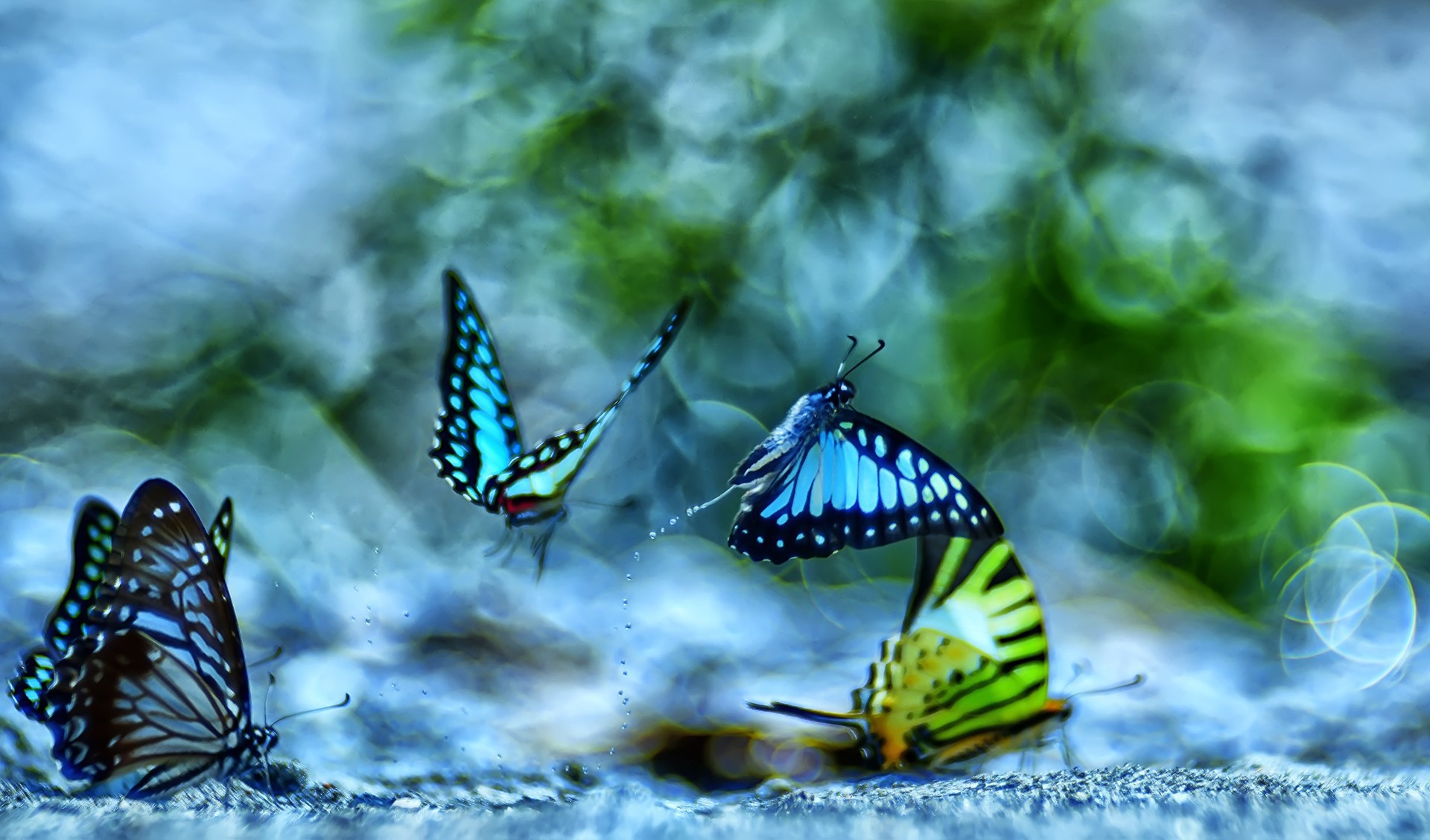 'Pull The Trigger' – Ankur Moitra
Second Runner-up – Animal Behaviour

A Little Egret stealthily follows a school of mullet fish, prepared to strike any moment. The photographer froze this frame while boating on the Ujani Dam backwaters in Bhigwan on a late October afternoon.

Location: Pune, Maharashtra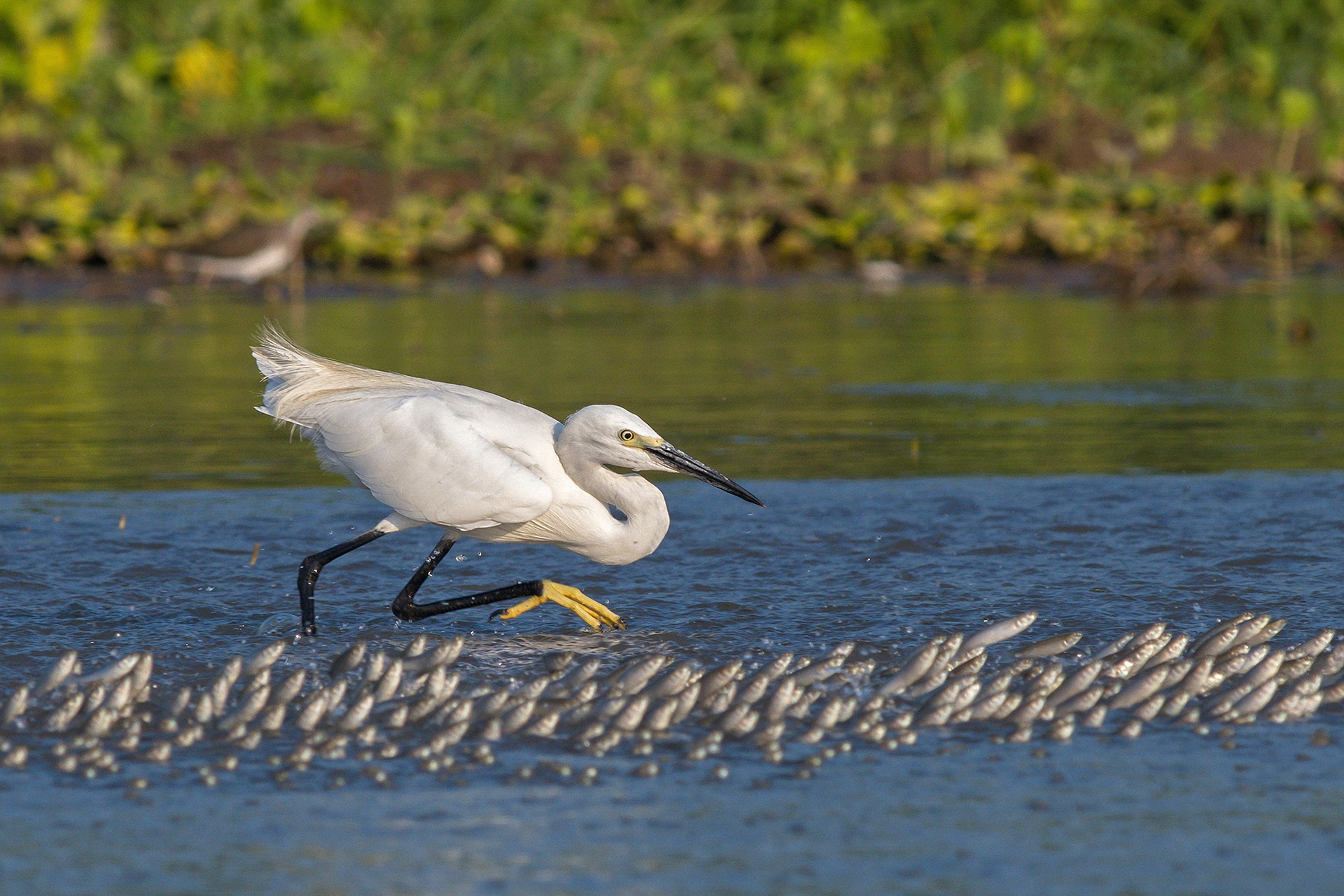 'A Mother's Love' – Subhayan Ghosh
Special Mention – Animal Behaviour

Apprehending the probable danger to her newborns, a Greater Racket-tailed Drongo swoops into action as an unwitting Great Indian Hornbill flies by her nest, at the Mahananda Wildlife Sanctuary. Her efforts were not in vain as she successfully chased the larger bird away.

Location: Darjeeling, West Bengal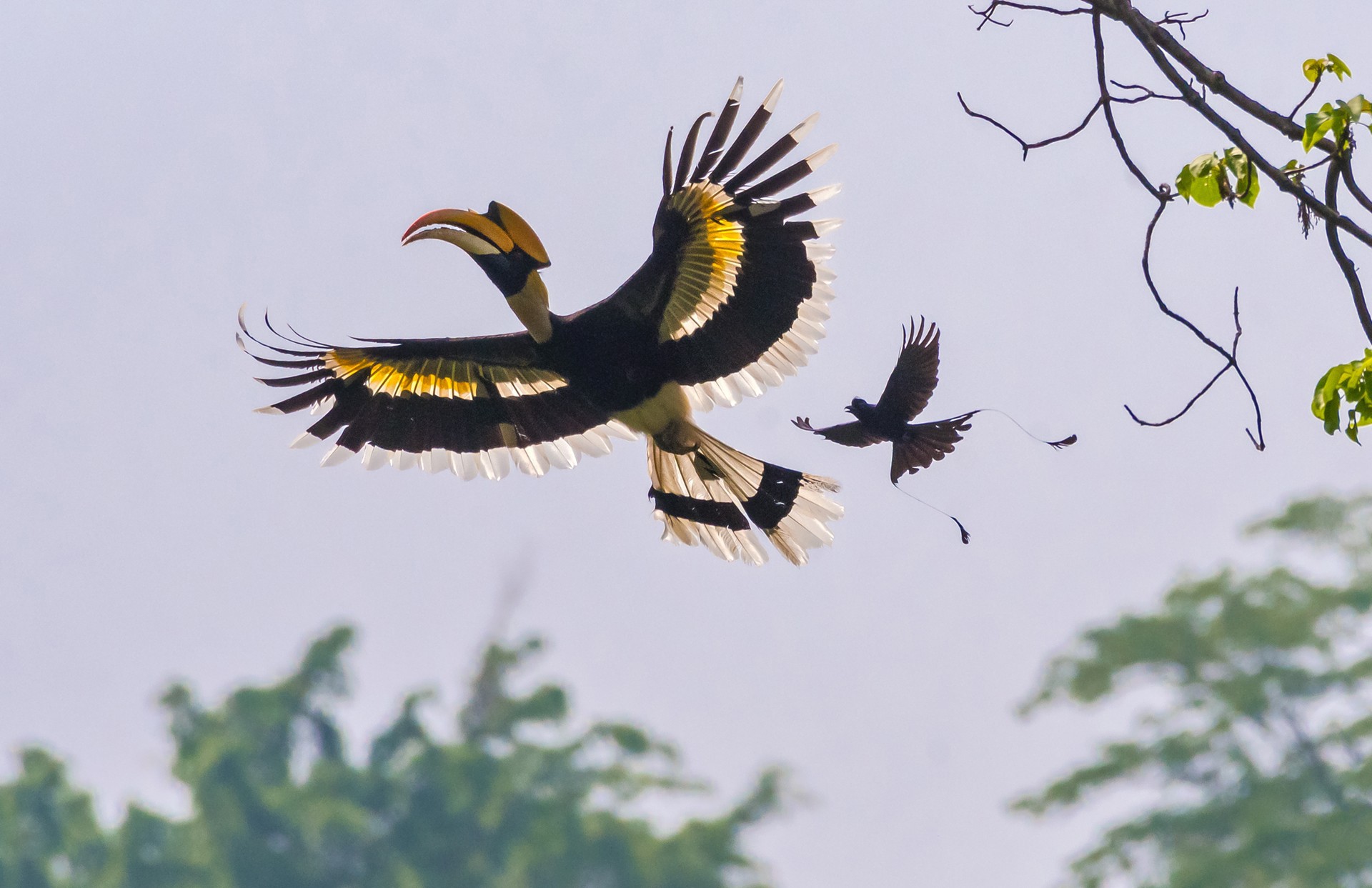 'Poached Egg' – Sachiien Dhopade
Special Mention – Animal Behaviour

Samurai Wasps are parasitoid wasps that deposit their eggs in Stink Bug eggs, and as the wasp larvae develop they gain nutrition from the host eggs. Here is a fully-developed Samurai Wasp wriggling out of a Stink Bug egg, pictured at the photographer's home in Dhankawad.

Location: Pune, Maharashtra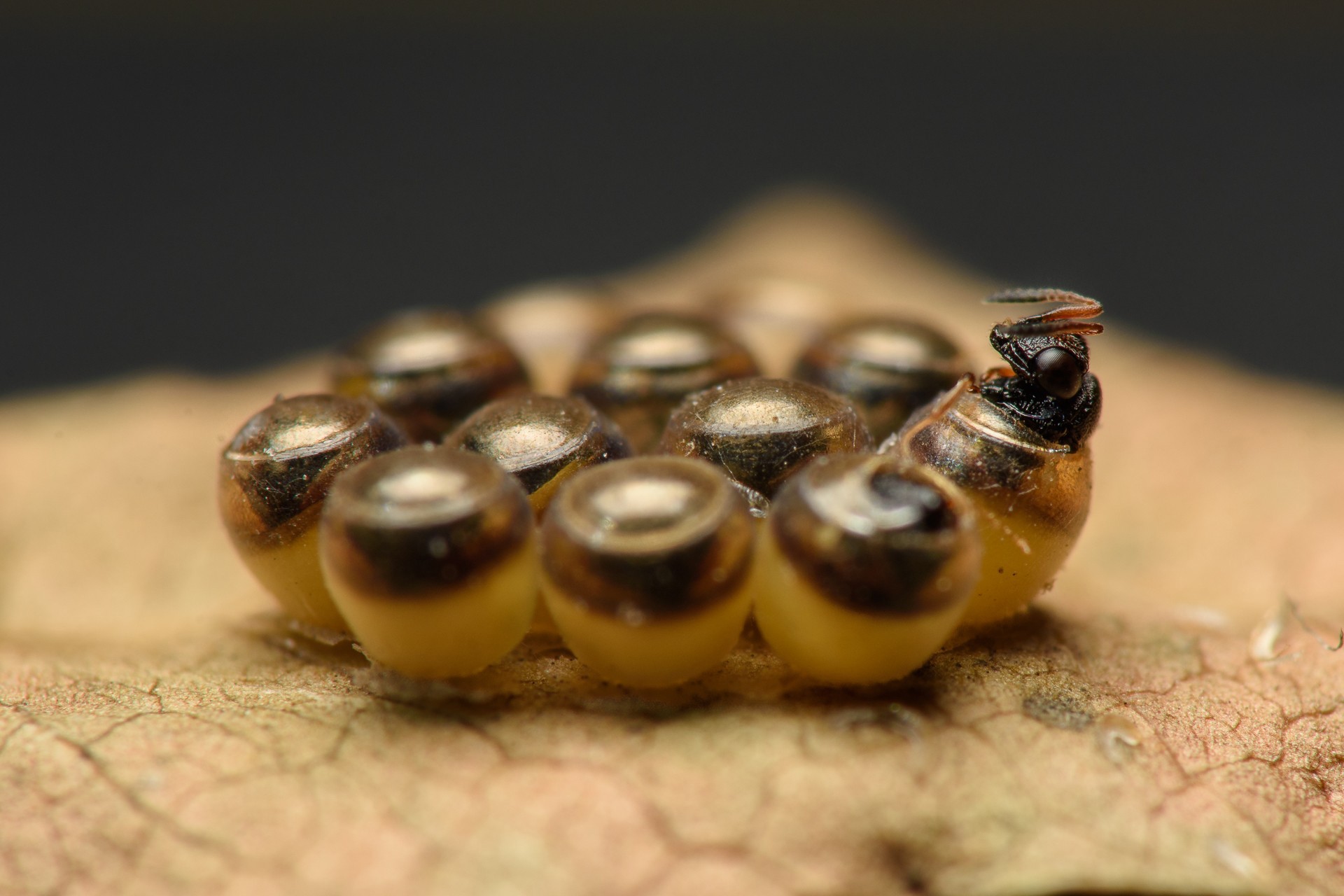 'A Tale Of Two Cities' – Sarang Naik
Winner – Conservation Issues

A colony of Zoanthids glows under the light of an ultraviolet flashlight, against the backdrop of a lit Mumbai city skyline. Zoanthids are an order of Cnidarians, similar to Corals and commonly found in coral reefs, that can be seen on Mumbai's rocky shores during low tide. The photographer was shooting one such patch behind Priyadarshini Park in Malabar Hill when he discovered that they glow brilliantly under UV light. This long exposure shot brings together two sides of the city of Mumbai: the bustling metropolis that we're all familiar with and the wildlife haven that hides in plain sight. Mumbai's marine life is under constant threat as these forgotten treasures continue to be ignored in the face of the city's bigger ideas.

Location: Mumbai, Maharashtra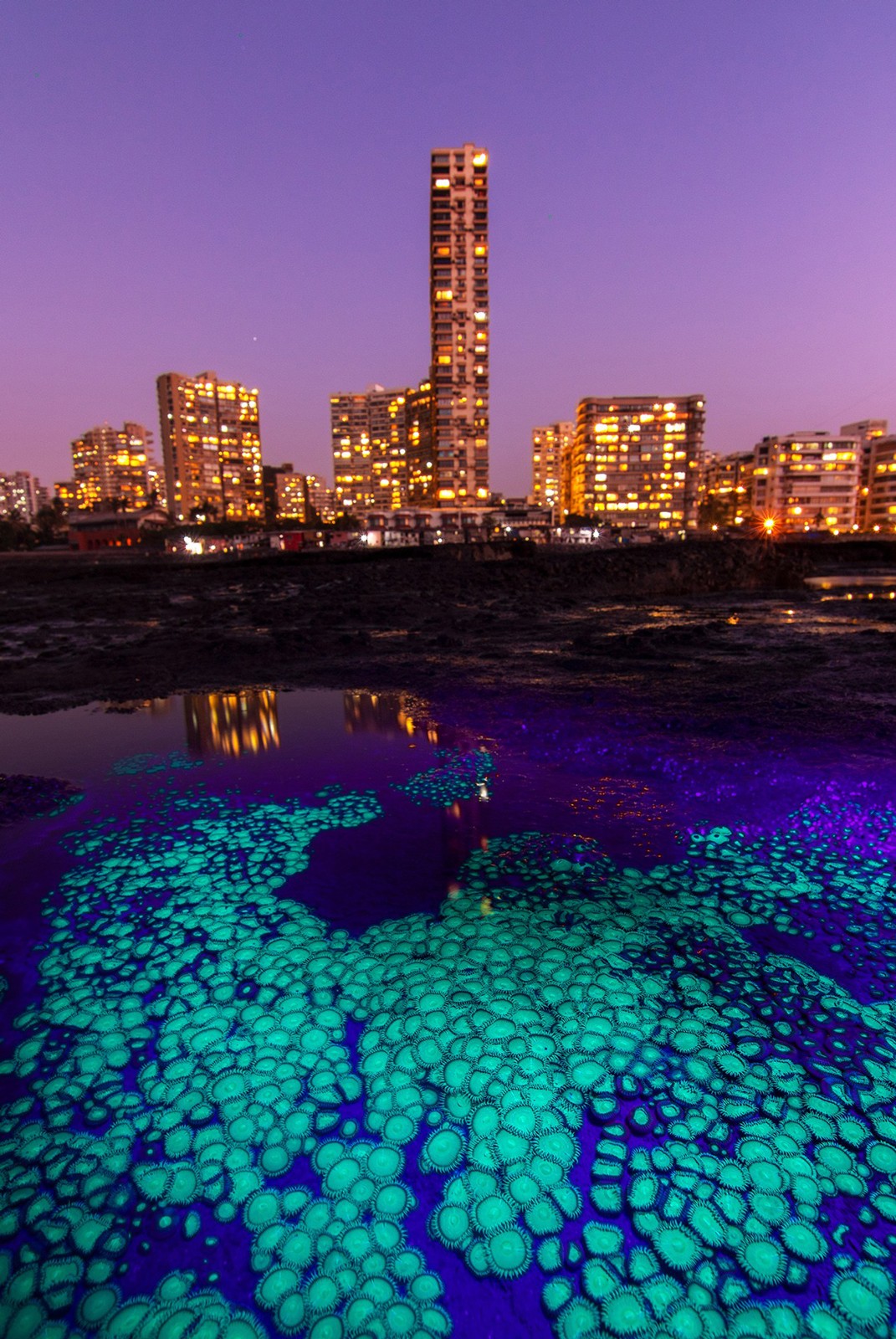 'Crossing The Styx' – Ankit Kashyap
Winner – Conservation Issues

A tiger crosses the 95-km-long, British-era metre gauge rail network which still traverses the Terai forests of Uttar Pradesh. Such linear intrusions contribute to the onslaught on wildlife in more ways than the obvious; habitat loss and fragmentation, increased developmental and tourist pressures, pollution, and much more. Photographed near the abandoned Rehta Station at the Dudhwa National Park, to sight a tiger in Terai is itself a rarity. Shots like these just cannot be planned.

Location: Lakhimpur Kheri, Uttar Pradesh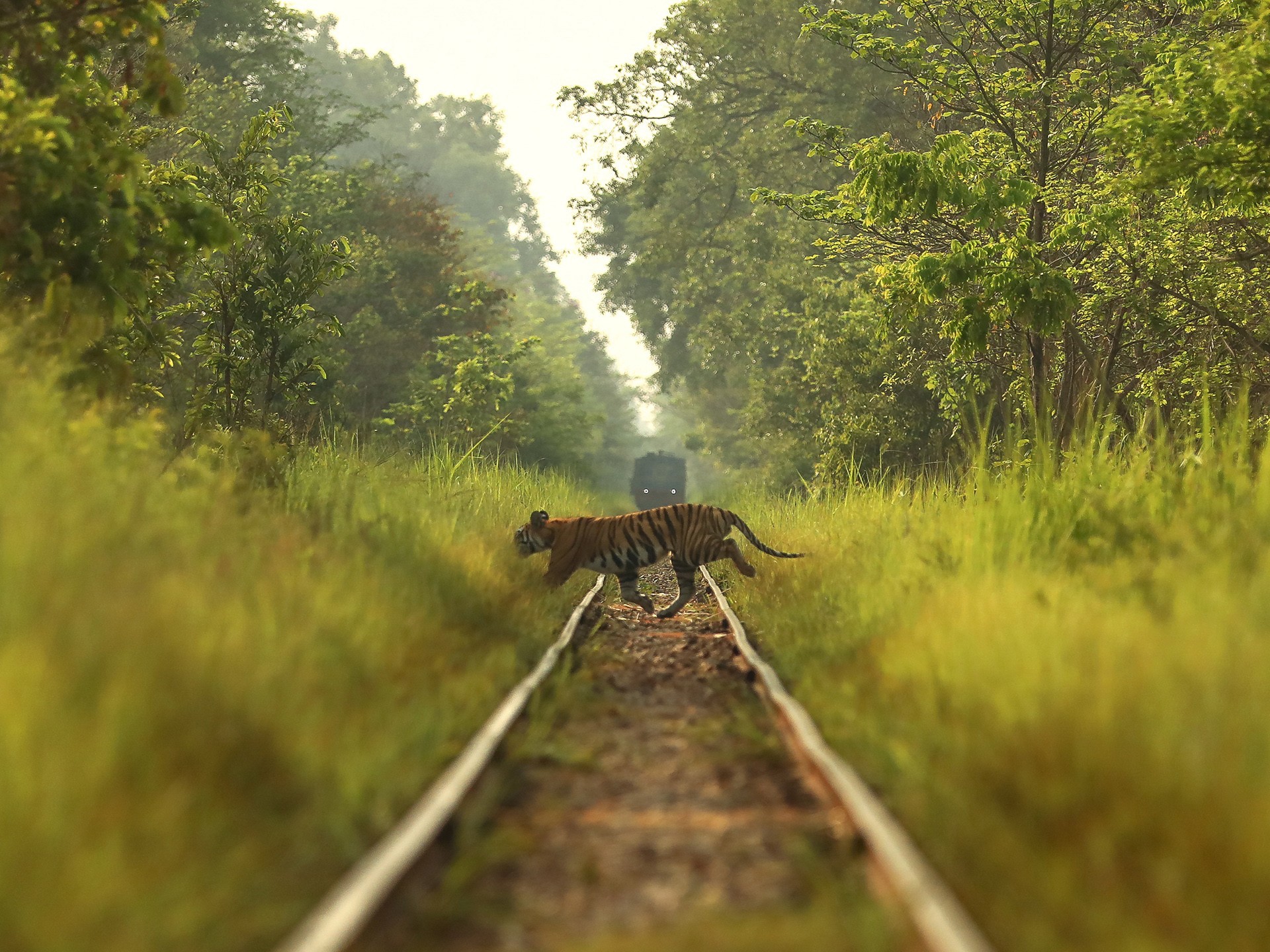 'New Enemies' – Devki Nandan
Winner – Conservation Issues

A pack of street dogs attacks a family of Smooth-coated Otters on the banks of River Chambal. With the increased destruction of pristine natural habitats, more and more human settlements are encroaching wild spaces, thus bringing feral dogs in contact with wild animals.

Location: Rawatbhata, Rajasthan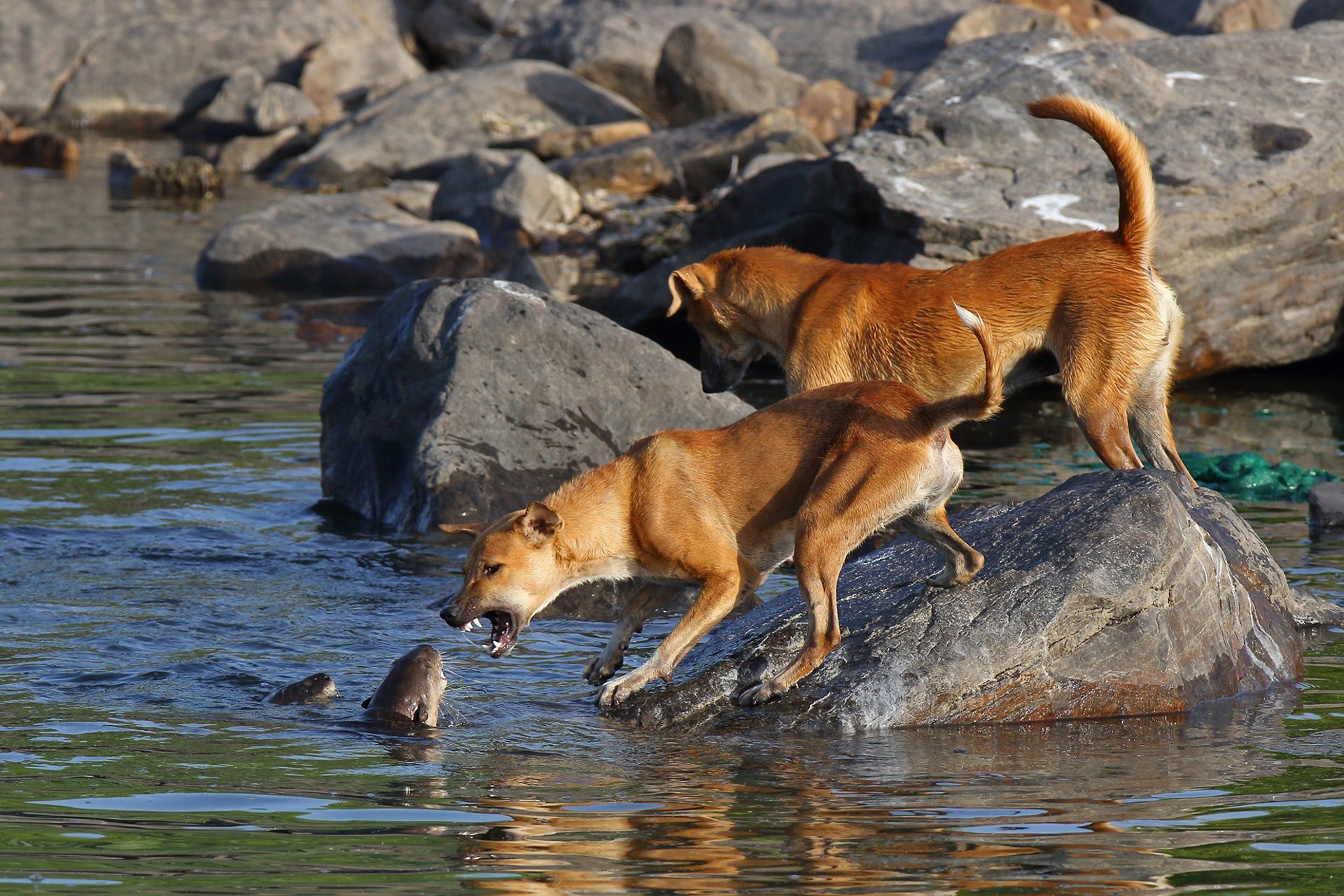 'Mangroves In My Backyard' – Rakesh Pulapa
Special Mention – Conservation Issues

An aerial shot of a fishing village and the adjacent mangrove forests shows the extent of deterioration of this critical coastal ecosystem. Half of the world's mangroves, about 32 million hectares, have already been cleared or destroyed – and those that remain are visibly under direct threat.

Location: Kakinada, Andhra Pradesh

'Chained & Tainted' – Bharath Kumar V
Special Mention – Conservation Issues

A chained Rhesus Macaque, covered in Holi colours, is made to beg for money from tourists at a festival during Holi celebrations. Throughout the festival, the photographer witnessed several macaques being abused to entertain the crowd.

Location: Barsana, Uttar Pradesh

'Chinnathambi - The Crop Raider' – Aneesh Sankarankutty
Special Mention – Conservation Issues

A wild tusker named 'Chinnathambi' is pictured raiding a plantain farm in a village in Tirupur. The tusker was relocated to the Anamalai Hills by the Forest Department after much public outcry in the outskirts of Coimbatore city. After the relocation, the wild elephant ventured hundreds of kilometres through towns, agricultural lands and highways before he was captured at this plantain farm, and put in a kraal – an enclosure for cattle and other animals.

Location: Udumalpet, Tamil Nadu

'You'll Float Too!' – Aniket Thopate
Winner– Creative Nature Photography

A dead Damselfly is pictured floating in the wetlands; the water droplets collected under its membranous wings creating a beautiful pattern. A tiny Springtail can also be seen hopping about on the corpse's remaining exoskeleton.

Location: Badlapur, Maharashtra

'The Salt Palette' – Aakash T
Runner-up – Creative Nature Photography

Salt pans are perfect foraging grounds for waders who utilise its narrow embankments for nesting. An aerial shot of an abandoned salt pan shows how these wading birds disrupt the discoloured waters to create what looks like beautiful abstract art from up above. The colour in the water is due to a high density of pigment cells caused by a rapid increase in algae population.

Location: Chennai, Tamil Nadu

'The Road Not Taken' – Vinay Damodare
Second Runner-up – Creative Nature Photography

The image shows the trail left behind by a pair of Red Foxes on the untouched canvas of the snow-covered Himalayas. The fox watches on as its partner searches for food in the freshly dug hole in the snow. Winters in the Himalayas are extremely harsh with the already limited food sources becoming even scarcer, forcing animals to spend entire days in search of a morsel of food.

Location: Kibber Wildlife Sanctuary, Himachal Pradesh

'Uprooted' – Baiju Patil
Special Mention – Creative Nature Photography

A canopy shot of the bare forests of Gautala shows a pair of Red-vented Bulbuls flying past, after cooling off in a pond nearby, during peak summer. The photographer lay flat on the ground looking up at the sky for hours before clicking this frame.

Location: Gautala Wildlife Sanctuary, Maharashtra

'In Heat, On Snow' – Salil Nair
Winner – Wildscape & Animals In Habitat

This region of Kibber Valley is known for Red Foxes. The male fox had well sensed the pheromones emitted by the female who was in heat, and all he had in mind was to mate with her. In directions a compass would fail to conjure, the male chased the female. All he wished was to share with her something that his DNA had carried for millions of years. Even in such harsh climatic conditions, life finds a way.

Location: Kibber Wildlife Sanctuary, Himachal Pradesh

'Pride Rock' – Yashpal Rathore & Aggal Sivalingam
Runner-up – Wildscape & Animals In Habitat

An adult leopard makes a brief appearance at dawn to trigger a camera trap on a high boulder in the Nilgiris. Photographed with the help of professional wildlife guide turned photographer, Aggal Sivalingam, the image showcases a big cat in its natural habitat and sharing space with humans.

Location: Kotagiri, Tamil Nadu

'A Skink's World' – Vedant Sapra
Second Runner-up – Wildscape & Animals In Habitat
Skinks spend their entire lives under the leaf litter on the forest floor and are rarely seen sitting out in the open, making them notoriously difficult to photograph. The photographer here gives us a peek into the world of these tiny reptiles.

Location: Bandaje Arbi Falls, Karnataka

'Where Few Can Follow' – Vaibhhav Sinha
Special Mention – Wildscape & Animals In Habitat

As the sun approaches the horizon, a female Nubian Ibex and kid climb up the cliff towards the rim of the Mitzpe Ramon crater. Closer to sunset, several other Ibex made their way along different routes to rest just below the rim, safe from humans and other intruders. These animals are born with the ability to scale precipitous terrain with expert grace, which allows them to seek shelter along such inaccessible cliff sides after spending their day foraging in the plains above and below.

Location: Negev Desert, Israel

'Blue Is The Warmest Colour' – Aditya Chavan
Special Mention – Wildscape & Animals In Habitat

A large flock of Grandalas takes over the naked branches of a snow-laden tree in the Himalayas. The shiny royal blue colour of the males make these birds a joy to photograph, particularly against the pristine white canvas of the Himalayas.

Location: North Sikkim, Sikkim

'The Greatest Showman' – Wewin Pandian
Winner – Young Photographer

A single beam of sunlight filters in through the thick canopy of the coconut plantation to shine the spotlight on this gorgeous Cattle Egret.

Location: Coimbatore, Tamil Nadu

'Creatures Of The Night' – Prahalad Vikram
Runner-up – Young Photographer
At sundown, endless waves of bats come out of the Gomantong Caves, as they head straight for the forests to feed on insects, fruits and nectar; immediately followed by the appearance of Bat Hawks who prey on these flying mammals. The photographer was able to frame this beautiful shot of a swarm of bats being chased by a Bat Hawk, against the clear moonlit sky.
Location: Sabah, Borneo

'Crimson Gold' – Manasi Gopinath
Second Runner-up – Young Photographer

A pair of Sambar Deer crosses the Ramganga river as the setting sun washes the Dhikala grasslands in its dusky golden warmth.

Location: Jim Corbett National Park, Uttarakhand

'The House Of The Seven' – Tanish Ray
Special Mention – Young Photographer

Seven critically endangered Indian Vultures occupy the different branches of a Sal tree, deep in the forests of Kanha.

Location: Kanha Tiger Reserve, Madhya Pradesh

'Whistling Falls' – Ikshan Ganpathi
Special Mention – Young Photographer

A long exposure shot of a Blue Whistling Thrush, perched on a rock beside a waterfall near Pelling. The species is known for its melodious whistling, which can be heard throughout the lower altitudes of the Himalayas.

Location: Rimbi Orange Garden, Sikkim

Nature inFocus thanks all its sponsors and partners for making the NiF Photography Awards 2019 a grand success.